The Cream of the Crap:
10th Annual Bad Film Festival

September 30, 1999
by Dan Lybarger
Originally appeared in the September 30-October 7, 1999 issue of Pitch Weekly. ........................................................................................................

For the last 10 years, the folks at the Kansas City, KS, Public Library at 625 Minnesota Ave. have unearthed some of the most putrid visions ever committed to celluloid. Now it looks as if there is only one thing to do: celebrate.

To commemorate a decade of presenting cinematic mediocrity, the library will host the latest annual Bad Film Festival, Y2Ape: The Monkey Millennium. At 6 p.m. on each Tuesday in October, the library will be presenting a different flick featuring men in unconvincing gorilla suits. In addition, at 1 p.m. each Sunday during the month, the library repeats audience "favorites" from the previous festivals. The lowlight of this year's festival will be the presentation of William Asher's Night Warning on Oct. 9 at 11 a.m. at the Fine Arts Theater. Even though the movies might be lame, they come with stale popcorn and tepid Kool-Aid. Admission is free. Lucky visitors can win obscure prizes like an 8-by-10 photo of Barney Miller's Abe Vigoda.

The ambitiousness of this year's festival and the increased demand for crummy flicks is surprising. According to library employee Gary Huggins, no one is more shocked than the festival's organizers. "It's (fellow employee) Mark Ingersoll's brainchild," explains Huggins. "I don't know why, but he's just weird enough to keep something like this going. I probably would have done it once and would have given up, but he just keeps churning it out every year. The same people keep coming, and the audience is getting bigger.

"It's the kind of movie experience that you can't get now that the worst crap is sort of filtered away to video or cable. You don't get to see it with a crowd the way that garbage should be viewed. You've got the interactive experience of something god-awful on the screen, and some quick-witted wiseacre in the audience responding to it," he says.

Huggins promises that wiseacres will have plenty of practice with the Tuesday Ape offerings.

Oct. 5 — The Monster and the Girl (1941)

In this atrocity, the plot is certainly novel. Huggins says, "A young woman is led into prostitution by a gangster ring, and her brother's brain has been planted into a vengeance-seeking gorilla."

Oct. 12 — King Kong Lives (1986)

Producer Dino De Laurentiis provides an even lamer sequel to his 1976 remake of the '30s classic. "It's a riot," says Huggins. "Dino De Laurentiis' dream was to make a King Kong marries a Lady Kong. They give Kong a heart transplant. You get to see Linda Hamilton in hip waders bouncing around in his chest. They lift out the heart with a crane, and it's still beating. It's great."

Oct. 19 — The Ape (1940)

"Boris Karloff is a doctor who puts on a gorilla suit so he can take spinal fluid from the people he kills and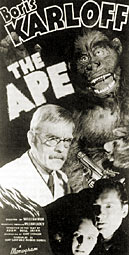 put it in a child so that she can walk," explains Huggins.
Oct. 26 — The Mighty Gorga (1969)
Huggins says, "It's a really obscure piece of trash. It's another King Kong rip-off, but the giant ape is just a head with white eyes painted on. The eyes and the head never move. He fights with a plastic toy dinosaur."
The audience favorites are also unique:
Oct. 3 — Hillbillys in a Haunted House (1967)
Huggins says, "It's the only movie in history to costar Lon Chaney Jr., Basil Rathbone and Merle Haggard — and there's a guy in a gorilla suit."
Oct. 10 — Son of Ingagi (1940)
"It's fantastic. It's about an ape man who lives in this basement laboratory and abducts his sweetie. It's part horror movie, part early blaxpoitation, part musical. Spencer Williams, who was half of the old Amos and Andy show, wrote it and stars in it," Huggins says.
Oct. 17 — The Thing With Two Heads (1972)
Dying racist Ray Milland has his head grafted onto angry convict Rosie Grier's body. "This one's my favorite, and of all the ones we've had, this one has the best response," Huggins says.
Oct. 24 — Robot Monster (1953)
This camp classic features an actor in a monkey suit with a diving helmet on his head trying in vain to pass for a space invader. According to Huggins, "It's routinely voted worst movie ever made."
Oct. 24 — For Your Height Only (1979)
"Forget Duck Soup, Some Like It Hot or Tootsie, this is the funniest movie ever made," proclaims Huggins. "Period. It's a Filipino James Bond rip-off starring Wayne Weng, who's a midget. He loves the ladies, has a really sporty hat and his primary weapon is kicking men in the groin."
Huggins takes special pride in presenting Night Warning on Oct. 9. Although it went straight to video after it was made in 1982, the movie is one of a kind. It's banned in the United Kingdom and was partially shot by cinematographer Jan De Bont, who later directed Speed and Twister. It also features Twister's leading man Bill Paxton in one of his first roles. It was even executive produced by Kansas Citians Richard Carrothers and Dennis Hennessy, who now run the New Theater in Overland Park.
In Night Warning, Jimmy McNichol (Kristy's brother) is falsely accused of a murder that was actually committed by his smothering aunt (a delightfully hammy Susan Tyrell). Mean-spirited detective Bo Svenson (Walking Tall, Part Two) is after him. On the surface, Night Warning looks like a typical low-budget horror film from the period. Not so, says Huggins. "The only way McNichol can verify his innocence is by proving he's not gay. It's brilliant. If you put in decapitations and gore into Torch Song Trilogy, it would be Night Warning."
The library is currently trying to raise money so that Svenson can attend the screening.
While much of the festival is clearly played for laughs, Huggins says that the goals of the Bad Film Festival are to generate interest in the library and its resources and to educate the public. He says, "That's our hope. It's not just that we show free movies and give them popcorn. It's so people will get a (library) card. Most of them do. They keep coming back.
"We don't just show the movie. We try to tell people a little bit about what kind of era the movie came out of, who made it, how it got made and why it got made. It's the research and the historical stuff that interests me. I don't know if anybody else cares, but we always put out a flier on each film packed with reviews and info about who made it. We actually do a lot of research on these, except for For Your Height Only. Nobody knows where that movie came from or how such an aberration could exist," explains Huggins.
Back to Home