Waking the Dead

April 24, 2000
by Dan Lybarger

........................................................................................................

Keith Gordon is a filmmaker who doesn't shy from a challenge. He may never be a household name, but his willingness to tackle a seemingly unfilmmable novel like Kurt Vonnegut's Mother Night is commendable. He treads similarly treacherous waters with his adaptation of Scott Spencer's (Endless Love) complicated romance Waking the Dead. The result of his gamble is a movie that intrigues and occasionally frustrates anyone willing to take a chance on it.

Waking the Dead proceeds with a slow crawl, but it begins with sudden force in 1974. Law student and aspiring politician Fielding Pierce (Billy Crudup from Without Limits) turns on the news to discover that Sarah Williams (Jennifer Connelly from Inventing the Abbots), the girlfriend he has loved obsessively, has just been murdered in a car bombing. The movie advances eight years and reveals that Fielding is now a successful Chicago prosecutor and is mounting his campaign for Congress. Fielding seems like a shoo-in for the new post. His ambitious father is an important union official, and his district is predominantly Democratic. The fact that he has staunch support from veteran party fixer Isaac Green (Hal Holbrook) and that he's dating Isaac's niece Juliet (Molly Parker from Kissed) doesn't hurt.

However, Fielding finds campaigning more difficult than he planned, not because his opponent is putting up much a fight, but because Sarah keeps reappearing wherever he goes. Women in a train terminal all dress like and strangely resemble her. Her face keeps appearing in the crowd. Still missing the woman who once called herself his "Jiminy Cricket," Fielding can't tell if Sarah is haunting him or still living. As the stress of his candidacy wears on, he begins to wonder if she's really a projection of encroaching madness.

Gordon and co-screenwriter Robert Dillon put twists in story that keep the exact nature of Sarah's appearances vague. The two leave the burden explaining the cause of Fielding's disturbances to the audience. A lot of contemporary filmmakers are either too timid or too distrustful of their viewers to take such a risk, so Gordon's more democratic approach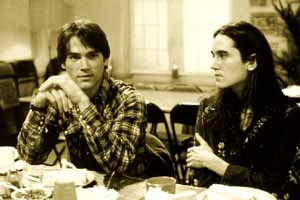 is often refreshing. Gordon and Dillon also make the characters complex. Fielding may be an idealist, but he is opportunistic enough to suggest to Juliet that they marry so that he can capitalize on "the morality issue" when his predecessor gets nabbed in a sex scandal.
With complicated themes like obsession and political maneuvering, Waking the Dead has to take its time, but Gordon's slow pace tries one's attention. The film also feels redundant. After a while one begins to wonder if someone as disturbed as Fielding should really be submitting himself to stresses of campaigning. The political angles in the film range from intriguing to naive. The movie's finale involving Fielding and his constituents seems more appropriate for lighter fare like Dave or Mr. Smith Goes to Washington. Still, walking out of Waking the Dead leaves a viewer with admiration for the risks Gordon takes, even if the results are mixed (R).
........................................................................................................
Back to Home