Who's in it? Jackie Chan, Jennifer Love Hewitt, Jason Isaacs, Peter Stormare
You might like it if you liked: "Rush Hour2," "Spy Kids"
Rated PG-13 for action violence, sexual content and language.
Running Time: 1 hour, 39 minutes
Despite having broken more of his own bones than most people have in their entire bodies, Jackie Chan's athleticism is still a marvel to behold.
Built around a garment that gives its wearer superhuman agility, "The Tuxedo" would seem a custom fit for Chan's acrobatics. With the Chan Man, special effects are optional.
Unfortunately, the new movie burdens the Hong Kong star with an irritating sidekick and a script (by FOUR credited writers) that makes you wonder if Chan was not the only person around who spoke English as a second language.
Worse, MTV-trained director Kevin Donovan makes the mistake of "enhancing" Chan's moves with digital trickery. It's a sight that's as unwelcome as graffiti in the Sistine Chapel.
Chan plays a struggling cabbie named Jimmy Tong whose lead foot attracts the attention of a suave, well-paying employer. Clark Devlin (Jason Isaacs, "The Patriot") is not only loaded, but he has a way with women that Jimmy can only envy. Clark's cool demeanor is complemented by an immaculate wardrobe that he rigorously protects.
When an assailant puts Clark in the hospital, Jimmy quickly discovers that his boss is actually working for the U.S. government, and that the spy's tuxedo is actually a versatile weapon.
It's easy to see why Chan took on this project because it allows him to stretch his considerably underused but formidable acting muscles and lets him do some physical comedy that for once isn't potentially life threatening. During the early portions of the movie, it is funny watching him eagerly mimicking Clark's easy way with a double entendre.
What isn't funny is watching Jimmy stumbling through an assignment with Del Blaine (Jennifer Love Hewitt), a research scientist on her first field assignment. In the past, Chan has excelled with a strong foil like Owen Wilson or Michelle Yeoh. The former was as big a goofball as Chan, and the latter's confident poise proved a wonderful complement to her leading man. Hewitt, however, comes across as a whiny harpy.
Of course, even Yeoh couldn't do much with this material. Time that could have been spent allowing Jimmy to get to know his suit or to develop some chemistry with Del is squandered on lukewarm car chases and groan inducing puns. The scene where Jimmy and Clark try to dodge a riderless skateboard that triggers a bomb is ludicrously dull.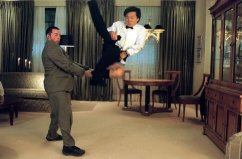 As can be expected, Hewitt's upper body is the source of much of the attempted humor, as is Jimmy's 007-ish way of introducing himself ("Tong, James Tong"). Even the villains can't seem to resist the chance to share in the verbal jousting. When a thug kills his victim with water, he quips "Aqua la vista."
Chan makes so many movies that he's likely to recover from this one. Viewers may not be so lucky.
....................................................................................................................