During my teen years in 1980s Kansas, several of my Bible Belt peers, nervous about an immanent apocalypse, wondered which world leader was really the Antichrist. Believe it or not one-time U.S. National Security Advisor and Secretary of State Henry Kissinger's name came up a few times, even though he'd been out of office for some time.
It sounds a bit loony now.
But after watching the new BBC-Four documentary The Trials of Henry Kissinger, I wonder if my friends might have been on to something.
True, Kissinger won a Nobel Peace Prize in 1973, but if the frequently disturbing charges have any merit, that award begins to sound more like a headli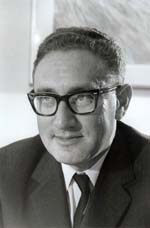 ne from the satirical rag The Onion than a reflection of his actual legacy.
Director Eugene Jarecki and writer Alex Gibney stack the deck against their subject. Eerie music sometimes plays during the talking head recollections making some of the interviews feel more sinister than they would without the accompaniment. Kissinger's only defenders featured in the film tend to be people like his successor Alexander Haig, whose creepy and unintentionally amusing testimony includes a remark that states that kidnapping really shouldn't be considered a crime. Most telling is the fact that the only footage of Kissinger presented in the movie is second hand.
That said, Jarecki and Gibney do find enough material to bring Kissinger's record into question and explain how the diplomat's tweaked version of statecraft (he is an admirer of Otto von Bismarck) may have cost thousands and possibly millions of lives. They follow him from his flight from Nazi Germany as a child to his service in World War II to his later ability to draw copious attention to himself.
One of Kissinger's first noteworthy achievements was the publication of his book Nuclear War and Foreign Policy, which advocated the limited use of atomic weapons and the need for a bomb shelter in every home. Apartment dwellers apparently missed his vision of homeland security.
Jarecki and Gibney score their biggest points when they examine how Kissinger's ambitions and double-dealing may have led to untold deaths in the 1960s and 70s. Kissinger worked with President Lyndon Johnson's team trying to hammer out a Vietnam peace deal. He was also passing information on to Richard Nixon, who was running against Hubert Humphrey, Johnson's desired successor.
According to the filmmakers and British reporter Christopher Hitchens, whose book The Trial of Henry Kissinger was a launching pad for the film, Kissinger knew the Vietnam war could not be won but did everything in his power to extend it in order to give the Russians the idea that the U.S. was not a nation of pushovers.
This involved moving the war into Cambodia where Kissinger and others in the Nixon administration began a bombing campaign without the knowledge of Congress. Even the pilots of the planes were reportedly fed misleading coordinates, so they had no idea that the North Vietnamese supply lines they were attacking was in illegal territory.
The crown jewel in Jarecki and Gibney's case is a series of recently declassified documents, which indicate that Washington had given the Indonesian government of Suharto a green light to invade and devastate East Timor using weapons Congress had designated for defensive, not offensive purposes. Many of these documents, which are presented onscreen, contradict Kissinger's written memoirs.
They also indicate that Kissinger was deeply involved if not masterminding the overthrow of Salvador Allende's government in Chile on September 11, 1973. The documents also indicate that Kissinger even helped orchestrate the kidnapping and murder of a general who was supportive of Allende's presidency.
Jarecki and Gibney at times seem to be spending an inordinate amount of time vilifying Kissinger when other perpetrators should share the blame. From the evidence presented, some influential corporations like ITT had as much to do with the Chilean coup as Kissinger did, but Kissinger emerges like a Darth Vader lording over all the government misdeeds.
It's also might have been more interesting if Hitchens and Kissinger could have gone after each other on camera. As we find out early in the film, that will probably never happen. In the borrowed clips, Kissinger flatly and repeatedly refuses to address Hichens' charges.
In the segments where he appears, Hitchens seems as potentially interesting a subject as his nemesis. He comes across as articulate and informed, but something seems off and unnerving about him. He looks disheveled and bleary-eyed. While it's doubtful that he's, as Alexander Haig puts it, "a sewer pipe sucker," Hitchens courts controversy and attention with same vigor that Kissinger does.
One of the reporter's books, The Missionary Position, made an unlikely villain of Mother Theresa. Hitchens slams right and left wing politicians in the same breath, so it's unusual that he takes such a forceful stand in Kissinger's case. A parallel look at the two men might have been just as rewarding as slamming the diplomat.
Jarecki and Gibney do deserve praise for their handling of the voiceover narration. Scottish-born actor Brian Cox recites Gibney's text and reads from the documents with an appropriate tone of gravity but resists the urge go into histrionics. He doesn't need to because the actions documented in The Trials of Henry Kissinger, if true, are so horrendous they need no embellishment.
© 2003 Dan Lybarger
....................................................................................................................