The Story of Us

October 21, 1999
by Dan Lybarger
Originally appeared in Pitch Weekly. ........................................................................................................

For a movie like The Story of Us to work, the "us" in the title must refer to the relationship between the characters in the film and the people in the theater. Sadly, Ben and Katie Jordan (Bruce Willis and Michelle Pfeiffer) live a life that is as artificial as it is dull and bleak. In short, director Rob Reiner's (When Harry Met Sally...) latest take on relationships fails as both commentary and entertainment.

The Jordans have been together for 15 years. They have two angelic children, loyal friends (Reiner, Rita Wilson, Paul Reiser, Julie Hagerty), a stable income and a nice home. Still for some reason, the once happy couple is drifting apart. Through an episodic and repetitive series of vignettes, we see how Ben's forgetfulness and Katie's perfectionism start to take their toll. Eventually, Ben finds himself moving out of the house and into a snazzy ho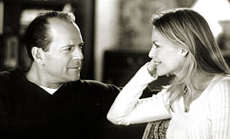 tel and later a classy apartment. While Ben tries in vain to revive their stagnant love, Katie finds herself drawn to a suave orthodontist (Tim Matheson). They don't let others know of their ennui for fear of upsetting their kids.
All of this could have made for some engrossing and relevant viewing, but the Jordans are simply too plastic to be believed. Not only are their stress factors surprisingly low (the kids rarely fight), but their glum attitudes make them seem more spoiled than sympathetic. True, some well-to-do folks have a right to feel miserable.
Nonetheless, screenwriters Alan Zweibel and Jessie Nelson don't seem to be taxing their imaginations enough to create full-bodied and compelling characters. Because Ben is a successful comedy writer and the couple lives in L.A., the characters seem even more artificial. Wouldn't it be nice if all of us could just fly off to Venice when our relationships feel flat? It's as if Zweibel and Nelson lacked the creativity and insight to make convincing middle- or lower-class characters who could live in other cities.
Reiner's maudlin and patchwork storytelling doesn't help. Significant portions of the story pass by in seconds, whereas the whining seems to last forever (one can almost set a watch to Pfeiffer's tears). Reiner loads the film with dozens of "Oscar clip" monologues that seem to amplify the vapidity of the writing by constant repetition. A lighter touch might have made the story seem less turgid. The cast (Pfeiffer in particular) frequently emote as if they were paid by the decibel. As a result, the movie feels like a loud, two-hour trailer.
Through all of the bellyaching, Willis does manage to give one of his most robust performances. After seeing him act on autopilot for the last few years, it's great to see him use his fine comic timing and demonstrate signs of range. If the writing or the direction had half of the energy of his performance, The Story of Us might have been more than a navel-gazing bore. (R)
........................................................................................................
Back to Home