The Red Shoes: Still Dancing after 50 Years
An Interview with Moira Shearer and Jack Cardiff

January 22, 1998
by Dan Lybarger
Originally appeared in the January 22-28, 1999 issue of Pitch Weekly. ........................................................................................................
Despite the fact that director Michael Powell and writer Emeric Pressburger completed The Red Shoes 50 years ago, the movie still has an impact. The two turned the Hans Christian Andersen fairy tale into a movie about a ballerina (Moira Shearer) who has to choose between the man she loves (Marius Goring) and dancing for her pedantic impresario (Anton Walbrook). The movie that resulted from this story won Oscars for Hein Heckroth's production design and Brian Easdale's score.
The Red Shoes is reportedly one of the highest grossing British films ever, and it made legions of girls want to be ballerinas. Furthermore, the movie's dance sequence inspired Gene Kelly to make An American in Paris, and its themes have influenced a variety of artists from Martin Scorsese to musician Kate Bush. Nathan Lane even makes an amusing reference to it in The Birdcage.
Despite how significant the movie has become, two of the film's most important contributors, leading lady Moira Shearer and cinematographer Jack Cardiff, had little desire to participate. Speaking from his home in England, Cardiff recalls, "I had never seen any ballet. I was ordered to see ballet several times a week. I thought, 'Oh, my God. This is going to be such a bore.' Very shortly, I became sold on ballet and loved it."
Shearer, then a dancer at Sadler's Wells (later the Royal Ballet), was reluctant for different reasons. She says, "I fought against being in that film for a whole year, and (Powell) was so angry. He thought I would sort of fall at his feet and be absolutely thrilled at this great chance. I was just beginning to do the big classics at Covent Garden, which was every classical ballerina's dream, and I didn't want to be deflected by this at all."
If being a movie star seemed unappealing to her, Shearer was also bothered by some of the film's content. She laments, "Michael Powell was obviously very keen about the ballet in an overall way, but he didn't know anything about it at all. He had these sort of grandiose, filmic ideas of putting every sort of eccentricity into every character and having everything going on at once, presumably to make a particular kind of impression on the screen.
"He had Léonide Massine (the real-life dancer-choreographer, who played the choreographer in the film) behaving like a mad jumping bean. Massine was wonderfully dignified and distinguished in life. I thought it was a travesty of what a ballet master should be like."
If the movie presents a distorted view of ballet, it does feature a dazzling 15-minute sequence that combines the dancers' artistry with eye-popping special effects. One particularly enchanting moment is when Shearer dances with a newspaper that morphs into a man. Cardiff played a crucial part in these scenes. "I really went to town on that film," he says. "I made several tests on my own with a couple of dancers. I organized a special motor, which could change speed considerably during the dance. I was able to slow down a dancer's leap in the air at his highest point so he seemed to linger before descending. For the paper sequence, I could change the speed from 24 frames per second to four frames, so the dancer could go into a whirl of speed as he dissolved (back into) a newspaper."
If the dancing scenes are breathtaking to watch, they were nightmarish to film. Shearer says, "Sometimes we would be jumping, and (Powell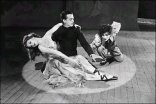 would) shout 'cut' when we were in the air. Down one came." Cardiff has similar recollections. "The dancers' toughest problem was the studio floor, which had a concrete base. It was completely different from the wooden stage, and dancing was quite painful."
Although Shearer does not treasure her experiences during the filming, Cardiff recalls her fondly. "She was wonderful. No star had ever brought cups of tea to the camera unit." Over the phone, Shearer still seems unassuming. When complimented on the performances she and Walbrook gave, she laughs demurely and responds, "Really? Gosh. I thought we were terrible! I had never acted in my life before."
Despite all of the hard work, the movie fared poorly in the United Kingdom. Studio chief J. Arthur Rank almost shut it down, and several British critics lambasted it. One reviewer quipped, "I suppose it had to be long to cram in as many clichés as possible." In the U.S., however, the arty, downbeat film was an enormous hit. Distributor William J. Heinman loved the film and borrowed it from the Rank Organisation. He then presented it in a popular road show. Cardiff recalls, "It wouldn't have happened if Heinman hadn't shown it because it was finished in three weeks in England."
Cardiff later went on to shoot dozens of films including Death on the Nile and The African Queen (which he describes in hair-raising detail in his autobiography, Magic Hour: The Life of a Cameraman). He also directed the Oscar-nominated movie Sons and Lovers. Nonetheless, he fondly recalls working on The Red Shoes. He states, "I'm one of the luckiest people alive to have made three films with Powell and Pressburger: A Matter of Life and Death, Black Narcissus (for which Cardiff won an Oscar) and The Red Shoes. I enjoyed their brilliant partnership immensely."
While making The Red Shoes was frustrating for Shearer, she is happy to have introduced millions to ballet. Ninette de Valois, who ran the Sadler's Wells company, pushed Shearer into making the film. Shearer recalls, "She knew, which I didn't at the time, that we were all set to come over at the Old Met. She knew the film would come out a year before and might make a bit of a stir. It would be good publicity for the company. Wise old bird really, she was right."
Back to Home