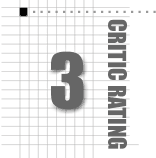 The Ninth Gate

March 23, 2000
by Dan Lybarger
. ........................................................................................................


The Ninth Gate is the sort of movie that director Roman Polanski used to make with mesmerizing skill. It has all of his trademarks: obsession, moral ambiguity, eerily composed shots where the characters are isolated in the frame, and dream-like reflected images. In Chinatown, and Macbeth, he combined these elements into movies that were thoughtfully unsettling. Curiously, The Ninth Gate is not. Instead, it feels distant and anemic.

The story outline sounds like something that Polanski could have easily mastered. A mysterious tycoon named Boris Balkan (Frank Langella) is eager to get his hands on rare first edition volumes of ancient texts that may have actually been written by Lucifer himself. Furthermore, whoever reads the material properly could possibly summon the Devil to appear.

To locate and verify the authenticity of the books Balkan does not currently own (there are two similar tomes), he hires Dean Corso (Johnny Depp from Sleepy Hollow), a knowledgeable collector. Corso is perfect for the task because he is thoroughly skeptical and has no conscience. He doesn't bat an eye as he swindles the family of a stroke victim out of an expensive copy of Don Quixote. Knowing no allegiance other than money (which Balkan shells out generously), Corso begins the quest and discovers that others, including a rival of Balkan (Lena Olin) and a mysterious European woman (Polanski's wife, Emmanuelle Seigner), are pursuing the books with equal vigor.

Considering the involvment of the Prince of Darkness and the ruthless means the characters use to acquire the books, one would expect that Corso's journey would be full of constant tension. Instead, The Ninth Gate is often uninvolving and sometimes silly. A lion's share of the blame can be laid on the underdeveloped script. Penned by Polanski, long-time collaborator John Brownjohn, and Enrique Urbizu from Arturo Pérez-Reverte's novel The Club Dumas, the story is loaded with limp plot twists, underdeveloped Satanic mysticism (Seigner floats down flights of stairs, a move that might seem more at home in a Hong Kong action flick), and cornball dialogue.
For example, after Depp sleeps with and then double crosses Olin, she bellows, "Don't fuck with me!" He suavely replies, "I thought I just did." Much of what develops in the story is obvious (Balkan's mere name indicates he's disreputable), so the fact that life, death, and the Apocalypse are at stake doesn't register.
At times, watching Polanski going through the uninspired tale is like listening to Luciano Pavarotti performing a Backstreet Boys tune. The singer's acrobatic, resonant voice only seems to amplify the banality of the source material. As the movie lumbers to its letdown of a conclusion, one briefly wonders what Polanski could have done with a story that was as well crafted as Chinatown or Rosemary's Baby. Several shots from The Ninth Gate are remarkably similar to those in the latter movie. Without more compelling characters (Corso starts off as an unlikable scoundrel and becomes even more corrupt as the film progresses) or story developments (Depp dodges a falling scaffold, which generates more chuckles than fright), the director's languid pacing has nothing from which to draw chills.
Thanks to home video, Polanski's better films can be enjoyed for a fraction of what it costs to sit through The Ninth Gate at a multiplex. His current offering is a lackluster retelling of what has always obsessed him and used to captivate the rest of us (R).
........................................................................................................
Back to Home