The Muse

August 22, 1999
by Dan Lybarger
Originally appeared in Pitch Weekly. ........................................................................................................

Screenwriter Steven Phillips

(Albert Brooks) has just won a humanitarian award for his long and distinguished body of work. In other words, his career is over.

Young executives snub him and tell him he's lost his edge. He's not even allowed to drive his car on some studio lots. Feeling desperate, Steven meets with Jack Warrick (Jeff Bridges, Arlington Road), a fellow writer whose career is on a hot streak. His secret: He's found a mysterious woman named Sarah (Sharon Stone) who claims to be a muse, or a daughter of the Greek god Zeus who can help motivate artists to produce their best work. When she agrees to help Steven with his slump, he is elated.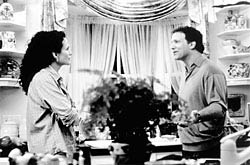 The catch is Sarah's services don't come without sacrifice. Hopeful writers have to give her expensive jewelry, and Steven has the unenviable task of finding her housing, which must be in the ritziest surroundings. He has to put up with her late-night interruptions and her results don't seem that tangible. Worse, Sarah makes Steven insanely jealous when she starts bonding with his wife Laura (Andie MacDowell) and inspiring her to go into the cookie business. Famous directors (like Martin Scorsese and James Cameron in sidesplitting cameos) show up at his door seeking Sarah when she's out. Steven's life is becoming a bigger mess, and he doesn't seem to have much to show for his trouble.
The muse's outrageous demands may outweigh her inspiration, but the goddess who counseled Brooks and his cowriter Monica Johnson offers somewhat better advice. The situation is not as compelling as those in Brooks' earlier movies like Lost in America and Mother. Brooks may have played aggravating characters in those films, but many of his frustrations, like trying to reconcile with his mother, were ones anyone could relate to. In The Muse, it's hard to sympathize with a crybaby who drives a Mercedes.
However, Brooks and Johnson do come up with plenty of choice gags. One particular bit involves an obnoxious executive who kicks Steven off the lot but copies down the amusing utterances that come from the frustrated writer's mouth. The humor, like the movie's explanation of why so many identical movies come out at the same time, might seem too local for non-Angelinos. Still, the sight of the exhausted Brooks slouching through miles of studio lots trying to make a meeting doesn't need any explanation.
Another plus is Stone. It's refreshing to see her play something other than a scheming femme fatale. She also seems to have a ball spoofing her prima donna image. There's a sense of contagious glee as Sarah requests Laura to install a clapper for her lamp. It's a pity Brooks doesn't find much for MacDowell or Bridges to do, but if he can give Stone her most enjoyable role in ages, he has accomplished something. (PG-13)
........................................................................................................
Back to Home