Like a lot of recent comedies, The Big Tease would have been a lot more enjoyable as a 10- to 20-minute sketch than as a feature. There are some truly inspired moments, but the dead time that predominates is hard to excuse.
Craig Ferguson from The Drew Carey Show stars as Crawford Mackenzie, a Glasgow hairdresser whose skill with scissors has all of the local Scots happy. Apparently, outsiders are impressed with his work too, because a BBC documentary crew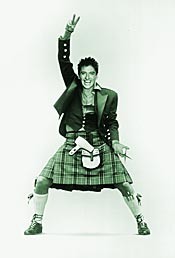 is following him as he travels to Los Angeles to attend hairdressing's World Cup, the Platinum Scissors. Crawford's trip soon turns into a nightmare when he discovers that he has been invited not to compete but merely to observe.
Angered by having traveled thousands of miles just to watch, Crawford relentlessly tries to get into the competition, but the obstacles are multitudinous. For one thing, he lacks the Hairdressers of America Guild, or HAG, card. Because he is not an established L.A. hairdresser like the legendary and egotistical Stig Ludwigssen (David Rasche), no one tries to help him. That changes when he manages to fix the hair of high-powered agent Candy Harper (the terrific Frances Fisher from Unforgiven). Pushy but compassionate, she transforms Crawford from a struggling outsider into a serious contender, even if he doesn't make the competition.
Crawford's efforts are obviously a reflection of Ferguson's own tussles with the Hollywood system (he co-wrote the script with Sacha Gervasi). The Big Tease is loaded with winking references to the backbiting and hypocrisy of the entertainment industry. At times the not-too-subtle digs are quite funny (Crawford says that L.A. is like his home in Scotland except that it has "palm trees and better dental care"), but often the movie treads material that was better spoofed in The Player and This is Spinal Tap. Like both of those films, The Big Tease is loaded with celebrity cameos. Sadly, only one (where Baywatch stud David Hasselhoff lamely attempts to schmooze the BBC camera crew) is really funny.
Still, Ferguson and Gervasi deserve credit for one minor but refreshing trait. Crawford is gay, but unlike a lot of recent movies (which rely on tokenism or silly platitudes about tolerance), The Big Tease treats his sexuality matter-of-factly. We get to see him with his lover (played by the film's director, Kevin Allen) early in the film, but the movie neither idealizes nor sensationalizes the pairing. Instead, Crawford is allowed to be a three-dimensional character. Ferguson is a likable performer who appears willing to take risks. If Ferguson can get past the stale in-jokes, don't be surprised if he, like the character he plays, rises from observer to major player. (R)
........................................................................................................