Once upon a time, actually twelve years ago, watching Arnold Schwarzenegger couldnít help but look cool sporting shades and a leather outfit. Whether he was a bad guy as in the original installment The Terminator or the savior of humanity as he was in Terminator 2: Judgment Day, the Austrian Oak inspired a sense of awe in the one type of role that he plays exceptionally well. His intimidating physique and cold, humorless manner made sympathizing with the human characters in director James Cameronís Terminator movies a lot easier.
The Schwarz is definitely still up for being the Terminator. In recent flicks like Collateral Damage and End of Days, Ah-nold has demonstrated that straight acting is not his strong suit, so going back to being a robot really works for him. In many ways, heís best when he just stays put.
With the special effects, however, this conservatism is almost fatal. What starts as familiarity in Terminator 3: Rise of the Machines quickly becomes diminishing returns. The liquid metal effects that were so jaw popping in the second installment seem a bit mundane now that theyíve been so widely imitated and because Computer Generated Images (CGIs) have bee more commonly used since 1991. The initial surprise and wonder are completely absent.
The story doesnít help. This time around John Conner (played by Nick Stahl from In the Bedroom), now an adult, has been scraping by working underground jobs and doing everything he can to make himself untraceable to the robots who could eventually take over the planet. Living this way has led him to bad drug habit and a sense of constant fear.
The latter isnít dissipated when the machines that have taken over the world in the future have sent back yet another terminator to the past to kill John. This model, dubbed the TX (Kristanna Loken), has the same ability to melt itself into liquid metal that the T-1000 did in T2 and a few gizmos that allows it to take over other machines.
Lomax looks great in her own leathery outfit, but she just isnít as intimidating a villain as Schwarzenegger was in the first movie or Robert Patrick was in T2. While itís a safe bet that she could beat up most would be assailants, Loken just donít project the relentless, cold, predatory attitude necessary for the role.
Considering how many actors of both genders were offered this role, itís shame the filmmakers didnít go with someone like Kelly Hu (X2: X-Men United), who can be scary.
Predictably, a T-800 (Schwarzenegger) has been sent back in time as well to protect John. The older, less powerful terminator has the additional burden of protecting the folks who will later becom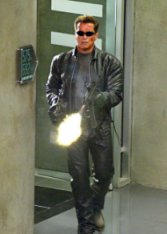 e Johnís subordinates in the human resistance, particularly a newly-engaged veterinary assistant named Katharine Brewster (Claire Danes). Danes appears to be performing the role under duress, and her characterís only potentially useful contribution to the war might be her ability to screech the evil robots into submission.
Up until the end, Terminator 3 follows the second installmentís plot line, which negates a lot of the tension. Despite some needless gore and some noisy, if well-staged, vehicle chases which include an out of control crane, the action seems more tiring than thrilling. Director Jonathan Mostow (U-571) has a pretty good eye for managing special effects, but there is little real inspiration in the script credited to John D. Brancato and Michael Ferris.
Their setup tries to fit in with James Cameronís world, but it still reeks of contrivance. At the risk of throwing in a spoiler, the conclusion is setup more bait for another sequel instead of a legitimate ending.
When a movie like this one is working, logic gaps donít seem to matter. Here they seem to leap out at a viewer:
∑ John and Katharine enter a secure military computer facility as easily as if they were just going home to see Mom.
∑ After disguising itself as Katharineís fiancť, the T-X mysteriously feels the need to change back into looking like Kristanna Loken just before it kills Katherine, thus allowing her ample time to escape.
∑ The T-X has several gun-like weapons that it forgets to use when itís within point-blank range of a target.
James Cameron, whose last offering was the intriguing Titanic documentary Ghosts of the Abyss, clearly had better things to milk his own creation dry. If only the rest of the filmmakers had followed his lead.
© 2003 Dan Lybarger
....................................................................................................................