As can be expected for a film advertised for its advocacy of "altered states," Super Troopers features a good deal of drug-related humor. It also offers its viewers some gags involving sex and an attitude of tasteless irreverence. Curiously, Super Troopers suffers because it doesn't have enough of any of these vices to merit its 103-minute length. The comedy troupe Broken Lizard is probably quite funny live, but the five of them (Jay Chandrasekhar, Kevin Heffernan, Steve Lemme, Paul Soter and Erik Stolhanske) together can't seem to come up with the sustained vulgarity to keep a film rolling.
The film's opening, which can be viewed online for free, is promising. As a trio of young stoners speed toward the Canadian border, they find themselves pulled over by Vermont state troopers Thorny (Chandrasekhar, who also directed) and Rabbit (Stolhanske). Rather than merely taking the lads into the jailhouse, the two start playing mind games with them. With three fellows so zonked out on weed they can barely complete their own sentences, the fuzz frighten their prey and have a good deal of fun in the process. Appearing and disappearing like malevolent spirits, they inadvertently frighten one of the potheads into swallowing their stash and end up giving the teens a joyride they'll never forget. Chandrasekhar and his pals don't come up with anything that would make Noel Coward envious, but the segment does have its fair share of guilt-inducing chuckles.
Once the plot kicks into gear, the movie begins to stall. The shenanigans these fellows and their cohorts (Heffernan, Lemme, and Soter) have pulled might take some of the drudgery of the job away, but they can't continue much longer. The state's tight-fisted governor (played in a brief cameo by former Wonder Woman star Lynda Carter) is planning on closing the station if the troopers don't demonstrate why they're needed. The lawmen decide to go on a ticketing spree, but they change their focus when they discover that some Afghan marijuana is making it into their jurisdiction, and the town's police are doing little to stop it.
Chandrasekhar and the rest of the Lizard fragments spend way too much time on this dull setup and leave a lot of angles uncovered. Except for Thorny and the disastrously hedonistic Farva (Heffernan), who spends most of the time as a dispatcher because he can't be trusted to handle a patrol, most of these fellows are too thinly defined to be even mildly interesting. Super Troopers is at its most effective and its most convincing when it highlights the way these fellows harass speeders and dopers. The idea of these clowns needlessly pulling folks over has loads of comic potential, but the Lizards spend more time trying to figure out how to squeeze carnal jokes into sequences where they don't quite fit. There are gags involving an inflatable woman and a curvaceous speeder eager to get out of a ticket that are naughty, but not that amusing.
Similarly, trying to shoehorn their gags into the flat plot seems to deepen the malaise. The dope ring plot proceeds slowly and seems to serve only for a tepid romance between one of the troopers and a pretty cop (Marisa Coughlin). There are also some downright bizarre references to Afghanistan. Originally shown at the 2001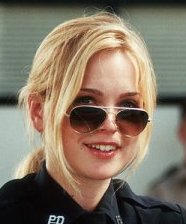 Sundance Film Festival, these nods were penned well before the current war. The cartoon monkey who dominates the ads for the flick is supposed to be a dope-inspired Afghan knockoff of Pokémon. Considering what the Taliban thought of television in general, it's doubtful that a cartoon of any kind, much less a racy one, would have emerged from there.
As the captain of the sorry troopers, the terrific Scottish actor Brian Cox does manage to add a little class to this strange mess. Having played the first incarnation of Hannibal Lector in Manhunter and a sympathetic child molester in L.I.E., he miraculously upholds his dignity throughout. Because of his fine work here and in other films like Rushmore, it's easy to let Cox off with a warning. The rest of the folks behind Super Troopers had better step away from the car and the camera.
....................................................................................................................