Rosewood
director John Singleton's new look at Ernest Tidyman's larger-than-life private eye John Shaft is blessed with perfect casting. With Samuel L. Jackson taking the lead, the new
Shaft
is a worthy, if occasionally awkward, updating of the classic 70's blaxploitation series. Like Richard Roundtree before him, Jackson projects a fierce and unconquerable confidence. His intense stare, thunderous voice and intimidating shaved head make one glad that John Shaft is one of the good guys.
Actually, Jackson doesn't play the original detective. Instead he portrays John Shaft's headstrong nephew with the same first name. The younger Shaft is a veteran homicide cop with a rigid sense of right and wrong and a profound lack of patience with perps (he's not above punching murder suspects). His latest case involves the senseless beating death of an unarmed black man by the egotistical white real estate heir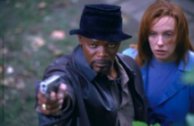 Walter Wade (American Psycho's Christian Bale). Wade's guilt isn't in doubt. A telltale bloodstain and a reluctant eyewitness (Toni Collette, The Sixth Sense) confirm Shaft's suspicions. Unfortunately, Wade's ace attorney (Josef Sommer) and family connections get him out on bail, so he flees to Switzerland. Worse, the witness disappears.
Two years later, Wade returns to New York, and the legal system lets him walk free until the trial. Disgusted by the law's unduly lenient treatment of an obviously guilty suspect, Shaft quits the force and follows in his uncle's (played by Roundtree, of course) footsteps. As a P.I., Shaft no longer has internal affairs or crooked co-workers to impede him. Through subtle sabotage, he proves even more dangerous to Wade and his new partner in crime Peoples Hernandez (Jeffey Wright, Ride with the Devil) than when he wore a badge.
While a lot of time has passed since the first Shaft movies, the themes that ran through the first movies are still potent and relevant. In Rudolph Giuliani's New York (Jackson even makes a snide comment about the mayor during the film), the younger John Shaft faces many of the same obstacles his uncle did thirty years before. The first two Shaft movies succeeded because director Gordon Parks (who has a cameo in the new film) created a gritty and hostile atmosphere that made Shaft's swaggering triumph welcome and convincing. Whites may have looked on him with contempt, but they had no choice but to respect the indomitable detective.
Singleton, however, takes the hostile world as a given. The plot (penned by Singleton, Richard Price and Shane Salerno) of the new film is more involved, and Singleton spends more time with over-the-top action scenes than Park did. At times, Singleton gets carried away. The scene where Shaft tosses away his badge at a permissive judge would seem more at home in a John Woo flick than in an otherwise realistic urban crime drama. In addition, a lot of the wisecracks Price, Singleton, and Salerno have penned are more profane than amusing.
Somehow even the more lackluster lines sound all right coming from Jackson's lips. Jackson's fierce tone can make Dr. Seuss' doggerel sound like Shakespeare. Singleton's camera always stares up at the actor in awe, making some of the more implausible sequences seem more credible because Shaft often seems superhuman.
Jackson may dominate the film, but the supporting cast is remarkably strong. Bale and Wright are terrific villains. Wright, in particular, brings an interesting blend of buffoonery and and intimidation. Roundtree has some fine moments as the older, wiser Shaft. It's a shame we don't see more of him because he and Jackson have an engaging rapport. At least Roundtree's presence indicates that Singleton understands what made the first Shaft and Shaft's Big Score! special. If the tone is a little different this time, the new film is still fun. (R)
........................................................................................................