Those who lament that today's movies often lack a message might have some difficulty with the 1950 Japanese film "Rashomon," which has finally come to DVD. There is so much content in its 88-minute running time that even careful viewers feel their heads spinning when they first see it
In adapting two of Ryunosuke Akutgawa's short stories ("In a Grove" and "Rashomon"), director Akira Kurosawa depicts a brief, horrific incident where a bandit named Tajomaru (Toshiro Mifune) attacks a samurai (Masayuki Mori)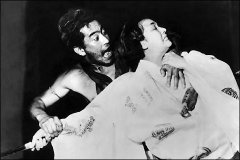 and his wife (Machiko Kyo) as they are traveling through the woods in 11th-century Japan. The results of the incident would seem simple: Tajomaru rapes the wife, and the husband dies.
What makes "Rashomon" into a fascinating riddle is that little else is so clear-cut. Each of the participants and an eyewitness (Takashi Shimura) recall the concrete details in radically different manner. Even the dead samurai says his piece about the attack through an 11th-century version of psychic John Edward.
Kurosawa and his co-screenwriter Shinobu Hashimoto present each recollection with similar weight. Viewers are left to their own devices to decide which portions of the stories to believe or discard. Kurosawa does offer hints about the actual outcome, but he's more interested in capturing how the participants use the event to justify themselves. In his own account, Tajomaru comes across as a dashing Errol Flynn figure, but he acts like a scolded child in the eyewitness testimony.
The performances are broad but demonstrate an astonishing range because the actors, without costume or makeup changes, play radically different characters in each segment.
Kurosawa placed more emphasis on his characters' facial expressions than in the dialogue, so it's not surprising that "Rashomon" became the first Japanese film to earn international attention by winning the Venice Film Festival and the Academy Award for Best Foreign Language Film.
Considering the historical importance of the movie (filmmakers as diverse as Kansas City native Robert Altman and Bengali director Satyajit Ray have cited "Rashomon" as an influence), it's refreshing that the extras that come with the new Criterion Collection edition are actually worth checking out. Thanks to careful restoration and some digital tweaking, Kazuo Miyagawa's breathtaking shadowy black-and-white photography is crisply presented.
Altman, whose verbal films seem unlike Kurosawa's more pictorial fare, acknowledges his debt to "Rashomon" in a brief but insightful introduction.
He recalls that the untraditional structure and photographic bravado (Miyagawa shot directly into the sun) inspired the American filmmaker to take more storytelling and technical risks.
Altman also wisely admits that there are idioms in "Rashomon" that he, as an outsider to Japanese culture, knows little about. An audio commentary track by film historian Donald Richie (A Hundred Years of Japanese Film) helps make some of these ideas clearer for Western viewers. At times his talk gets a bit flowery and redundant, but he does a fine job of explaining how Kurosawa and Hashimoto skewer samurai movie cliches.
The package comes with a booklet that includes both of Akutagawa's stories and Kurosawa's recollections on making the movie from his book Something Like an Autobiography. This essay is entertaining in itself because the director recalls having a difficult time explaining the film's ideas to his own subordinates.
Although "Rashomon" is much more intimate in scope than Kurosawa's "The Seven Samurai," the movie still was difficult to make because it was filmed in an actual forest teeming with mountain leeches.
Another essay by Kurosawa biographer Stephen Prince explains how Kurosawa had to fight executives at Daiei Co. Ltd. who thought the movie's narrative would confuse and alienate audiences. The concerns were unwarranted because the movie became a hit at home and a sensation abroad.
The English dub included in this edition is as clumsy as the ones that accompany Godzilla movies, defusing the seriousness of the film. Making up for this deficiency is an excerpt from the Japanese documentary "The World of Kazuo Miyagawa."
If you think a series of interviews about photography with a cinematographer and a director sounds esoteric and dull, think again. The frail-looking cameraman giddily recalls how he ingeniously solved the problem of lighting in the forest. (Did the folks in the costume department at Daiei know that one of their mirrors was missing?)
....................................................................................................................