Never Been Kissed

April 22, 1999
by Dan Lybarger
Originally appeared in Pitch Weekly. ........................................................................................................

Thanks to peer pressure, high school isn't much fun. But Josie Gellar (Drew Barrymore) thinks she has an advantage over her classmates. She is really a 25-year-old cub reporter for the Chicago Sun-Times attempting to find out what teens do for kicks. Josie is also trying to be one thing she's never been before: popular. In her own adolescence, her peers constantly ridiculed her and called her "Josie Grossie."

She soon finds the present isn't much better. Her outdated fashion sense and studious nature make her an outcast again. The only group that will have her is a team of math enthusiasts called "The Denominators," led by Aldys (Leelee Sobieski). While she does have friends, none are involved in anything that her grumpy editor (John C. Reilly) wants to print. To make matters even more frustrating, Josie's loser of a brother, Rob (David Arquette from the Scream movies) follows in her footsteps and once again becomes a school celebrity. Fortunately, Rob uses his newfound clout to make Josie the luminary she's always wanted to be.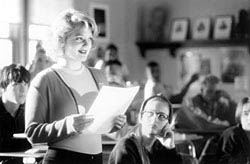 Drew Barrymore in Never Been Kissed.
© 1999 Twentieth Century Fox, used by permission.
This setup from writers Abby Kohn and Marc Silverstein has loads of possibilities, but few of them are developed. Except for a couple of off-handed remarks (Josie rebukes a gym teacher who claims that students who flunk her class won't make it to college), we don't really get a sense that Josie is an incognito adult. The newspaper sequences are ludicrous and don't fit with the rest of the movie. A film like this one doesn't have to be realistic, but it should at least be credible. Why Rob didn't use his influence to help his sister while she was still a teenager is never addressed. Furthermore, a potentially interesting subplot involving a hunky teacher (Michael Vartan) who falls for her goes nowhere because he and Barrymore have little chemistry. While one wishes Barrymore had done more to solidify the material (she is credited as a producer), she has over the past few years become one of the more likable actresses on the big screen. Because she is empathetic, her quest for acceptance is occasionally compelling even if it isn't logical. The real star, however, is Arquette. It's a riot to watch him gloat about his newfound status even if it is pathetic and morally reprehensible. (He has no qualms on hitting on his jailbait-age female classmates.)
With such a juicy turn from Arquette, one wishes that more could have been done with the central idea. Writer and filmmaker Cameron Crowe found the inspiration for Fast Times at Ridgemont High by going to high school in disguise and later reporting the results. It's a shame his story is more interesting than anything in this movie. (PG-13)
........................................................................................................
Back to Home