The Messenger: The Story of Joan of Arc

September 30, 1999
by Dan Lybarger
Originally appeared in Pitch Weekly. ........................................................................................................

The robots on Mystery Science Theater 3000 once said that watching director Luc Besson's movies was "like injecting your eyeballs with LSD." The drug reference is apt because even Besson's lesser movies have intoxicating imagery, imaginative sequences and feverishly accelerated pacing. However, Besson's storytelling sometimes fails to keep up with the other aspects of his filmmaking. Such is the case with his latest, The Messenger: The Story of Joan of Arc.

In this take on the historical legend, Joan (Jane Valentine) is a 15th-century French peasant girl who becomes convinced that she hears celestial voices. She annoys the local priests with her relentless acts of piety. Joan's childish fascination with the divine and earthly ends when she witnesses her sister being murdered by the English army.

When she becomes a teenager, Joan (now played by Milla Jovovich) becomes convinced that God has selected her to liberate France from the British invaders. Despite the fact that she is illiterate, young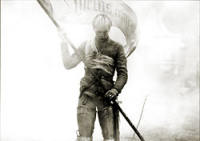 and a woman living in a male-dominated culture, Charles VII, the Dauphin, (John Malkovich) gives her an army. To everyone's surprise, she manages to free the city of Orleans, which the English had held for eight months. After the victory, Charles becomes king and stops supporting Joan. The Burgundians (who are allied with the English) capture her and turn her over to the church, who try her for heresy.
Credit Besson and co-writer Andrew Birkin for noticing some of the ironies of the Joan myth. Joan's early victories seem to prove her holy mission, but there's still the troubling thought that God asked her to kill. As Joan's campaigns and trials wear on, Besson gives her more nightmarish visions, implying that Joan may be going insane. Besson aims to treat Joan as more than an innocent martyr. This take is more ambitious, and it often seems as if Besson hasn't fully developed his interpretation.
Joan acts revulsed by the carnage committed under her command, but her objections seem out of character for someone so obsessed. This gets even more incoherent and maddening during Joan's incarceration. Dustin Hoffman (buried under a dark cloak) plays Joan's conscience. This sort of device can work nicely in a novel or play but seems downright weird on film. That's bad when one considers that its subject is a person who is used to seeing and hearing things other can't. Besson never makes it clear if Hoffman is a divine apparition or a projection of Joan's subconscious. If he is the latter, he knows too much to be the product of her own mind. For example, he warns the illiterate Joan after the fact that she has signed her own death warrant.
Some of the other casting decisions also seem odd. The French are played by both American and French actors, causing a disorienting mix of accents. Malkovich seems a little old to be playing the Dauphin, but at least his take on the role is fresh and doesn't rely on the needless eccentricities that some actors, such as Richard Widmark in Saint Joan, give the monarch.
Besson's missteps end up tainting the rest of the movie. It is easy to forget the appropriately gruesome and chaotic battle scenes (one of Besson's specialties) or Jovovich's interesting turn as Joan. Jovovich does have an otherworldly presence (which she demonstrated in Besson's The Fifth Element) that's just right for the role. Still, by the time Joan eventually burns at the stake, the movie has an anticlimactic feel. While one admires Besson for trying to capture some of Joan's complexity, the iconic Maid of Orleans was easier to root for. (R)
........................................................................................................
Back to Home