Female filmmakers have made remarkable advances in 1998. Mimi Leder's Deep Impact is one of the year's biggest grossers, Tamara Jenkins' Slums of Beverly Hills is a hit with the critics, and scores of other women (including Theresa Connelly, the director of this week's Polish Wedding) have governed behind the camera. However, these successes are hardly new.

Many of the invaluable contributions women have made in front of and behind the camera are chronicled in Cari Beauchamp's new biography, Without Lying Down: Frances Marion and the Powerful Women of Early Hollywood. Beauchamp is scheduled to speak about the topics covered in her book at the Sixth Annual Buster Keaton Celebration: Keaton & Pickford, Everyman & America's Sweetheart at the Bowlus Fine Arts Center in Iola, KS, on Sept. 25-26. Her presentation will be on Saturday.

Beauchamp chose screenwriter Frances Marion (1887-1973) as the focus of her study. Contacted by phone from Pasadena, CA, she recalls, "I was initially intrigued by a group of women. For that I mean: Anita Loos (Gentlemen Prefer Blondes), Adela Rogers St. John (A Free Soul), Frances Marion, and the list goes on. I had seen their names on so many movies and yet failed to see them in any of the Hollywood histories, which I devoured. I would find their names in the footnotes, and the footnotes would be contradictory.

"Then, once I started on this trail, Frances Marion quickly percolated to the top of the group, and her life was so rich, both professionally and personally. She was this incredible central character who knew so many people. She was pivotal in other people's lives and vice versa," Beauchamp says.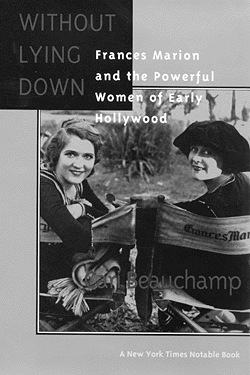 Marion's accomplishments as a writer are nothing short of prodigious. She contributed to hundreds of films including Victor Sjöström's The Scarlet Letter (1926) and The Wind (1928) and George Cukor's Dinner at Eight (1933). Two of her scripts, The Big House (1930) and The Champ (1931), won Oscars, and for almost 20 years she was Hollywood's highest-paid screenwriter. Beauchamp says, "Frances was usually brought in after other people had been hired and (the studio) had sort of given up, and then she started anew. That was certainly true with The Scarlet Letter. Three other people had turned in scripts before Frances was called in. What made her so special was she wrote stories that moved. She was perfect to take something that had been a play, i.e. something that had been in a confined space, take it out and open it up. She knew which characters were going to move the story forward."

Writing wasn't Marion's only skill. She directed two successful films (Just Around the Corner and The Love Light), worked as a World War I correspondent, raised two sons, played concert-level piano and spent her later years as a sculptor.

Marion also had an eye for talent in others. In fact, two of Hollywood's top leading men owed her an enormous debt. "She tried to promote both Clark Gable and Gary Cooper," Beauchamp explains. "What we would now call 'the suits,' particularly with Gable, saw the clips and the screen tests and just laughed. The casting director called (Gable) 'the sugar bowl' because of his enormous ears. Frances, in both cases, encouraged and was successful in organizing an all-woman screening with the secretaries. That convinced 'the suits' that maybe indeed these men had something."

Marion was one of several women who wielded this kind of influence with studios. During an era when women's career options were limited to teaching, nursing, typing or being a housewife, half the writers in Hollywood were female. Beauchamp elaborates, "During the teens, (filmmaking) wasn't taken seriously as a business. Because it wasn't taken seriously as a profession, it was open not just to women, but to entrepreneurial misfits of all kinds. Louis B. Mayer (the head of Metro-Goldwyn-Mayer), (Paramount boss) Adolph Zukor and (legendary producer) Sam Goldwyn could not have gone as easily into any other profession and risen to the top. We're talking about a junk man, a furrier and a glove salesman."

Despite Marion's considerable legacy, Beauchamp says the screenwriter didn't take herself too seriously. "She respected moviemaking as an art. She would then turn around and call her estate, 'The House that Bunk Built.' She realized she wasn't writing Ulysses here." In addition, Marion used her power to help friends like actress Marie Dressler and writer Lorna Moon when both were desperate. Beauchamp states, "Much of her self-worth and personal gratification came from being able to use her status to help other people. That would put a smile on Frances' face much more than an Oscar."

Beauchamp says Marion's generosity came as a pleasant surprise. "I had no idea. I feel so grateful. I have friends who've written biographies about people like Mary Pickford and Dorothy Parker. They were actually fascinating, but boy, I wouldn't want to spend five years with them on the level you do with this kind of work. I grew to love (Marion). I'd joke I get to spend the day with my 'dead girlfriend,'" she says.

The biographer's work has gained similar affection from reviewers. The Washington Post Book World called Without Lying Down, "an impressively innovative work," and The New York Times selected it as a "notable book." "It's been rewarding in every way but financially," she says laughing.

Beauchamp also says that one of her biggest pleasures is having the chance to inspire the current generation of female filmmakers. She recalls, "I picked up the phone one day, and (a woman says) 'Cari? This is Sherry Lansing (chairman of Paramount Pictures). I want to thank you for giving me my history.'"

Back to Home