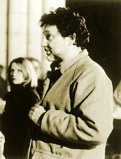 ADDITIONAL LINKS

Click here to purchase a copy of Tom McGregor's novelization of Elizabeth.
Click here to purchase Alison Weir's new biography, The Life of Elizabeth I.
Click here to purchase a CD of David Hirschfelder's Soundtrack album for Elizabeth.
Internet Movie Database Listings for:

Fit for a Queen:
An Interview with Shekhar Kapur, Cate Blanchett, and Christopher Eccleston

November 19, 1998
by Dan Lybarger
Originally appeared in the November 19-25, 1998 issue of Pitch Weekly. ........................................................................................................

"Director Shekhar Kapur made his mark on world cinema with Bandit Queen, a violent, unnerving film about real-life outlaw Phoolan Devi, who terrorized the countryside of India. She later became a Robin Hood-like folk hero.

Kapur's latest movie, Elizabeth, a historical drama about Elizabeth I of England, seems far removed from his previous efforts or even his own roots in Bombay. However, in a recent roundtable interview in New York City, Kapur states, "I think both stories are of women who survived and who had no choice but to survive. The only way they could live was through power. Otherwise, they'd both be dead."

Kapur also says that he used similar attitudes in both movies. "I decided that I could make a film about events or about humans. I was always bored with history. In school, I was taught history as events, and then my grandmother would teach me history as myth. Before the English came into India, we never recorded our history so it became mythical. I've made the film an emotional telling of history."

Much of what attracted him to Elizabeth was the fact that the film's religious conflicts mirrored the ones he had witnessed in India. "I have this belief that there is faith, and there is religion," he says. "We kept trying to put in the subtext of the mixing of religion and politics. We tried to portray that at the end she comes to faith. Even though she's Protestant, there's that shot where the (statue of) Virgin Mary is almost blessing her. That becomes, to me, 'spirituality.' Everything else was politics and religion. That comes from what I saw six years ago with the Bombay riots where Muslims and Hindus were killing each other in the streets," he explains.

To embody his protagonist's journey to faith, Kapur cast up-and-coming Australian actress Cate Blanchett. While she has key roles in forthcoming films such as Pushing Tin, The Talented Mr. Ripley and An Ideal Husband, Kapur selecte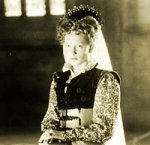 d her after having seen only the promotional trailer for Oscar and Lucinda. He recalls, "They asked me if I wanted to see the film. I said, 'No. I don't want any doubt in my mind. There were three things I was looking for: the ability to be 400 years ago, the ability to be now, and the ability not to be, almost like the spirit. That was her face. Even now when I'm looking at Cate talking to people, I'm saying, 'She's an alien; she's from somewhere else; she doesn't exist.' And I believe it."
Since the film's release, others have come to admire the actress' work, and she is considered a strong contender for the Academy Award for Best Actress. Nonetheless, Blanchett has her doubts about any awards. She says, "I had the great fortune of being in Oscar and Lucinda but the great misfortune of the fact that the word 'Oscar' was in the title." Even if she walks away empty-handed on Oscar night, Blanchett says she found the making of Elizabeth rewarding. "I love the Elizabethan period because it's so elastic and volatile, and what Elizabeth garnered for her country during the 40-odd years of her reign was incredible. The advantage of (doing a period piece) is it's just a great excuse to read."
While Blanchett is fond of research, she is more comfortable playing historical figures than writing about them. "I do love reading, but my essays at university were always written in mad passion at 12 o'clock at night," she says. "The grammar was appalling, and my arguments were ill-formed. I think I'm better at physicalizing that research."
Blanchett also maintains the film demonstrates how attitudes about sex haven't changed in the years since Elizabeth's reign. She says, "I think because monarchs are by their nature enigmas and single monarchs particularly. Marriage was such an important political maneuver. Their sexuality was under constant scrutiny. Look at Clinton. Look at what's happening with the (British) monarchy. People are obsessed with sex. Elizabeth was profoundly ambitious and a consummate politician. Whether she ever truly considered marriage is one of the great mysteries of her career."
Elizabeth needed those political skills to deal with serious threats like the Duke of Norfolk. While Norfolk was a real danger to the Queen, British actor Christopher Eccleston (Jude and Danny Boyle's Shallow Grave) says that his take on the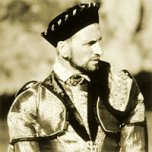 Duke is far from villainous. "He's not bad," Eccleston states. "Elizabeth is a dictator. She slaughters everybody. It's just that we spend more time with her, so we empathize with her. If they had fleshed out more of Norfolk, we may have felt the same for him. I think Norfolk's motivation is basically a very humane one, which is to survive."
He also contends that rendering Norfolk more human makes him a more formidable enemy."I was almost to the point of obsession with presenting him as a realistic rather than a melodramatic villain," he explains. "I tried to delay the audience's hatred of him and make him a little more acute politically. I think the more real a threat he was to Elizabeth, the greater her achievement at the end of the film."
Because he has strong political views (Eccleston takes pride in starring in Peter Medak's Let Him Have It, which strongly criticizes the death penalty), the actor was asked if he had considered following his character's interest in politics. "I need to get further along the acting trail before I consider world domination." He adds, "I think it's very interesting that people are going to see a movie that cost 15 million pounds, where the central character is a woman. People love to see these films about the wielding of power. I think it's phenomenal. In a way, Elizabeth has generated this interest herself with the creation of 'the icon.' She'd be delighted in this. Maybe some people would think we're going to explode the myth, but actually people will come out of this film loving her more because Shekhar has presented her as more of a human being."
Back to Home