Under the Influence:
An Interview with James Karen

September 16, 1999
by Dan Lybarger
Originally appeared in the September 16-23, 1999 issue of Pitch Weekly. ........................................................................................................

"People don't know my name, but they know my face because I've done so damn much work," says veteran actor James Karen.

For over 50 years, Karen has appeared in dozens of plays, movies and television shows. The list of people he has collaborated with reads like a who's who. Steven Spielberg (Poltergeist), Robert Redford (Up Close and Personal) and David E. Kelley (TV's The Practice) have all worked with him, and he appeared on Broadway in A Streetcar Named Desire with a young Marlon Brando.

Still, one association is close to Karen's heart. He was a collaborator and friend to the legendary silent comic Buster Keaton. Karen is scheduled to appear as part of the Seventh Annual Buster Keaton Celebration at the Bowlus Fine Arts Center in Iola, KS, on Sept. 26 and 27.

In a recent interview from his home in Los Angeles, Karen recalls, "(Keaton) was my child's (Reed) godfather, and he was like a father to me. He was charming to be with. He used to say, 'If you're laughing, the audience ain't.' He was very serious and made me more serious. He helped me a lot in comedy because I had been playing comedy, and I think I was doing it externally. Buster was doing it from the inside. He had nothing on the outside and filled the inside. A lot of people worked the other way.

"He's the most American of movie icons," Karen adds. "Look at his pictures (like The General and Sherlock Jr.); most of them look as if they were made today."

Karen, a Pennsylvania native, says his interest in the comic began early. "My father couldn't read or write. He went to work in the coal mine when he was 6 years old. I was an early reader, and I was taken to the movies to read the titles for my father. I began to imitate Buster when I was a child, walk around and stare at people and do the 'great stone face.' They would say things to me, and I wouldn't crack my face," he says.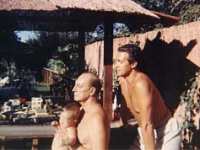 Karen eventually met the fellow he mimicked in 1956. The two later performed together in television sketches and in a 1957 touring production of George S. Kaufman and Marc Connelly's play Merton of the Movies. The play helped demonstrate that the comedian had not lost his skills during the fall of the silent era. "Buster was always making a living. He was always working. He worked in Paris in the Cirque Medrano. He was out of American mainstream entertainment. He had worked in early television here in the West Coast, but people in the East Coast didn't know. When I went to the summer theater managers about producing a play with Buster, a lot of people didn't know he was alive. They thought he was finished in Hollywood when he was 33. How wrong they were," Karen recalls.
Keaton's role was intended for a younger actor, but some alterations to the script added to the humor. Karen says, "I was standing at the bar of the Players Club and in walked Marc Connelly. He was a good friend of mine. I said, 'Mark, listen to this for a problem.' I told him the problem (Keaton's age), and he said, "Oh, my dear. We must do anything we can to get Buster onstage." He took a piece of stationery from the Players Club desk and wrote, 'This gives you permission to do anything with the script for Buster Keaton.' He signed it. I said, 'That's great, Marc, but what about George S. Kaufman?' He said, 'Oh, George is in a coma, but his wife, Leueen MacGrath, will do anything I ask her to.'"
One modification was particularly memorable. He says, "We changed a line. I said, 'How come a man your age wants to be in movies?' He says, 'It wasn't my fault movies was invented when I was an old man.'"
Another noteworthy collaboration was the 22-minute movie Film. This oddity is the only movie that Nobel Prize-winning playwright Samuel Beckett (Waiting for Godot) ever made. If the pairing of Beckett and Keaton seems a bit strange, so was the rest of the casting. "I played his father," Karen recalls. "It was very difficult to do. It was not a pleasant experience. We had a lot of fun until we started shooting. Beckett was very dictatorial. He would say things like, 'Can't you blink three more frames Mr. Keaton?' He really didn't understand (film) at all. It was tough, but now (Film) is kind of hallowed. We didn't think so at the time."
The movie played at the 1965 Venice Film Festival and earned a standing ovation. Karen says, "(Keaton) wept. It was the only time I ever saw him weep. Ever."
One of Keaton's trademarks was his daring stunts. For example, in Steamboat Bill the actor stands still as a two-ton wall falls around him. Keaton survived because he was standing where the open window was. "Buster had a slight masochism. If it didn't hurt, Buster didn't think it was too good," Karen recalls.
Keaton was also known for his technical precision as a director of silent movies. Karen explains, "He never went to school, but he did research. The map of New York (in Keaton's 1830's period epic comedy Our Hospitality) is exactly right. Buster was not an educated man, but he was brilliant."
One example of Keaton's intelligence was how, shortly before he began his career in movies, the comic studied a movie camera. "He took it for the weekend," Karen says. "He took it apart and put it back together all weekend. Then he understood how the shutter worked. When you look at his films, you see there's a precision like a movie camera in the way that he works. He moved like that. It was like he was a machine. Look at the shots in Sherlock Jr. (in which, through the magic of editing, Keaton attempts to stand still while the world around him changes in a split second). That had to be done with calibers. There was no trickery. They changed the background, but he had to be in exactly the right spot to a fraction of an inch."
Karen has vivid recollections of working with Keaton, and he has some recent roles that are worth noting. He fondly recalls working on the cult horror-comedy Return of the Living Dead, and he's just completed work on Oscar-winning director Oliver Stone's new football movie Any Given Sunday with Al Pacino and Cameron Diaz. It is the third time he has acted for Stone. He had previously appeared in Wall Street and Nixon. Karen states, "I'm crazy about Oliver. He's a mad genius. He works at a feverish pitch. It's so complex that nobody knows what he's doing except him. He covers so much stuff, and you never know how he's going to edit."
Karen is happy to talk about working with Stone, Keaton and many of his other collaborators, but his purpose for being in Iola is to pay tribute to Keaton's widow, Eleanor Norris Keaton, who died last October. Karen recalls, "Eleanor was tremendous. Had it not been for Eleanor, I don't think (Keaton) would have lived the last 20 years of his life. She took care of everything."
Back to Home