Sitting through I Dreamed of Africa is about like watching a slide show of someone else's exotic vacation. Some of the sites look great, but it's difficult to invest much enthusiasm unless the presenter can make audience members feel as if they're part of the action. Director Hugh Hudson (who's responsible for much better films, such as Chariots of Fire and My Life So Far) never gets close enough to the characters to make them worth caring about.
Working from the real-life exploits of Kuki Gallmann (Kim Basinger), screenwriters Paula Milne (Hollow Reed) and Susan Shilliday (Legends of the Fall) fashion a series of disconnected incidents that never flow into a coherent narrative. The movie begins with a horrific car accident that leaves most of the occupants of the vehicle dead; Gallmann and her friend Paolo (Vincent Pérez) survive. Soon after her recovery (too soon to make much sense), the two start kissing and make plans to move from their home in Italy to Kenya. All of this is a major change for Kuki; she's used to opulent surroundings. Unlike most people, Kuki and her mother (a sadly wasted Eva Marie Saint) argue not at home but in stately art galleries.
Kuki, Paolo, and their son, Emanuele (Liam Aiken), find themselves in a place that looks less like a country and more like an IMAX documentary. Thousands of flamingos gather around as they arrive. The numerous animals don't add much to the story, but they provide a welcome break from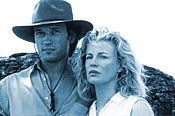 the elephantine dialogue (Kuki warns Emanuele that there is a difference between risk and stupidity). In between long shots of breathtaking sunsets and frolicking beasts, Paolo goes on weeklong hunting trips without leaving word to Kuki. Kuki develops relationships with some of the Kenyans, who are portrayed in a condescending light. For example, the chief of a tribe that wanders through Kuki's ranch wears goofy sunglasses and ignores destructive poachers. As if these hassles weren't enough, Kuki must ward off hungry lions and battle catastrophic storms.
Despite the preponderance of challenges, little that happens in I Dreamed of Africa inspires much excitement because Hudson never really explains what makes Kuki's stay there worthwhile. We don't get a sense of her adapting to the surroundings because she immediately grasps the local languages even though she's a neophyte. At times, the movie seems more of a laundry list of her mistakes and tribulations than a real movie. It doesn't help that Basinger, who looks beautiful even when traipsing through thick mud, frequently comes off as wooden and bewildered. She also fails to project the strength to make Kuki believable. Even worse, she and Pérez have no chemistry, so their frequent couplings are amusingly phony.
Hudson travels through I Dreamed of Africa at a slug's velocity, but much of the movie seems to be on the cutting-room floor. In one scene, Emanuele ages 10 years in less than a minute. Maybe the rest of the movie belongs in the same void. (PG-13)
........................................................................................................