Go

April 22, 1999
by Dan Lybarger
Originally appeared in Pitch Weekly. ........................................................................................................

Like Pulp Fiction, Go is an ensemble piece told in three segments that concentrates on the seedier side of life in Los Angeles. If the approach of the new movie is more than a little familiar, Go is thankfully as unpredictable as its predecessor.

The first segment stars The Sweet Hereafter's Sarah Polley as an overworked supermarket cashier named Ronna. Despite her long hours, she doesn't have enough cash to pay off her back rent. When a couple of desperate party animals ask her for drugs, she makes a pact with a mean dope peddler named Todd (Timothy Olyphant). Ronna buys the drugs at a discount and hopes to use the profits to cancel her eviction. Needless to say, the deal goes bad, turning Todd into a mortal enemy.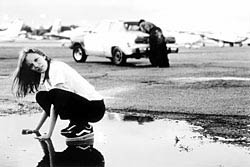 Sarah Polley in Go.
© 1999 Sony Pictures Entertainment, used by permission.
Meanwhile her coworker Simon (Desmond Askew) joins his buddies for a jaunt to Las Vegas. The trip is wild but no fun. While Simon gets all the sex and booze he anticipated, he accidentally destroys a hotel room and loses his money. To make matters worse, he and a friend run afoul of the thugs who run a strip joint.
While Simon is running for his life, TV actors Adam and Zach (Scott Wolf and Jay Mohr) try to assist a strange narcotics detective named Burke (William Fichtner). Burke has busted the lads for possession and has coerced them into helping him nail a dealer. After the sting, Burke invites Adam and Zach for Christmas dinner. He makes them nervous when he starts being nice to them and complementing their abs.
In tying all these elements together, writer John August gives more than a few nods to Quentin Tarantino and ensemble movie specialist Robert Altman. As with many of Altman's efforts, some of Go's components work better than others. The Vegas segment isn't as much fun as it could have been because Simon is too conniving and stupid to be likable. To his credit, August creates enough juicy plot twists to keep things moving. The final segment is consistently surprising and actually wraps the stories up convincingly.
Doug Liman proves that his success with Swingers was no fluke. As with his previous movie, the director demonstrates a feel for nightlife. Liman doubles as the cinematographer and his hyperactive camerawork captures the disorienting aura of a rave party.
Go may lack the originality to be a classic, but it's an entertaining look at the here and now. (R)
........................................................................................................
Back to Home