Gladiator

May 2, 2000
by Dan Lybarger
........................................................................................................

It has been so long since Hollywood has kicked out a Roman-themed flick that it almost seems that the last one was released when the Caesars ruled. However, those who have been craving these movies will be well served by director Ridley Scott's (Thelma and Louise) new take on the genre, Gladiator.

Scott wastes little time getting the action rolling. After a fierce Braveheart-like attack on Rome's enemies in Germania, the empire's top general Maximus (Russell Crowe, The Insider) has won and now wants to go back home to the wife and son he hasn't seen in years. This option is an impossibility. The aging Emperor Marcus Aurelius (Richard Harris) is overcome with guilt for the way he has needlessly endangered the Empire with his conquests. Believing that re-establishing the Republic will be the only way to correct the Empire's problems, he begs Maximus to take the reins until the Senators can take power. The old Emperor's plans prove to be for naught because his son Commodus (Return to Paradise's Joaquin Phoenix) is furious about being denied the throne. His decision is understandable. Commodus did not lift a finger to help during the war and is more interested in staging gory spectacles than in actual administration. Still feeling slighted, the prince murders his father and immediately claims the Crown. Maximus is too weary of battle and refuses to serve an Emperor he does not believe has Rome's best interests at heart.

Maximus' principles prove costly when Commodus orders his death. The general escapes but winds up being sold into slavery. From there, his fortunes actually improve. His owner Proximo (played with delightful surliness by the late Oliver Reed) makes him a gladiator. While the job is repugnant to Maximus' pride, it's a perfect fit for his talents. Fresh from the war, he can outfence much bigger warriors and frequently defeats his opponents by outsmarting them. Maximus' feats soon land him a shot at the Coliseum in Rome. He also discovers that his heroism in the arena wins enough admirers to get back at the Emperor who betrayed him.

Scott whips through the battles and intrigue with an appropriately brisk pace. The revenge story credited to David H. Franzoni, John Logan (Any Given Sunday), and William Nicholson (Shadowlands) is far from deep and often predictable. Fortunately, Scott delivers more than enough eye candy and thrills to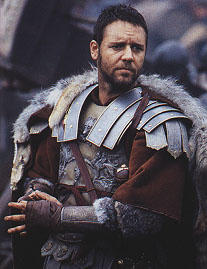 compensate. Thanks to a combination of real locations in Malta and Morocco and convincing computer-generated effects, Scott can create sweeping vistas and gorgeous aerial shots that Cecil B. DeMille would envy. Furthermore, the battles (which are occasionally marred by MTV-like editing techniques) offer Crowe and his crew enough formidable obstacles to keep a steady flow of tension.
Scott also benefits from some terrific performances from his two leads. Maximus is a one-note hero, but Crowe imbues him with a nervous anger that makes him seem more human and believable.
However, the movie really belongs to Phoenix. Commodus is scary and detestable not because he's tough (his lean frame makes him look rather puny), but because he is so insecure that he constantly feels the need to defend his prowess. Because of his neuroses, even Commodus' sister Lucilla (Connie Nielson from Rushmore) and his nephew Lucius (Spencer Trent Clark) are in danger. Lucilla is especially vulnerable because she has a crush on Maximus, and Commodus has an unquenchable incestuous desire for her. Commodus' depravity and selfishness are so repugnant that one wishes him to meet a grisly end, but Phoenix has made a career out of playing hard-luck cases (in Clay Pigeons, for example), so he's able to make an audience feel a slight pity before Commodus' evil nature takes over.
Part of the reason few opulent period movies like Gladiator get made these days is because many of the old ones like the 1962 Cleopatra offered characters who failed to emerge from the larger-than-life settings. Thanks to Crowe and Phoenix, Gladiator is as lethal as it is beautiful (R).
........................................................................................................
Back to Home