Much of the reason Pixar movies have been so consistently engaging is that the characters in them, while living in imaginary worlds, deal with real world aggravations. The characters in the Toy Story cartoons spend their days fearing the prospect of being downsized to a garage sale item or being left behind when they age. Monsters, Inc. even had what appeared to references to Californiaís infamous "rolling" power failures.
The characters in Pixar movies are not merely cute or imaginative. Because of their very real emotions, itís easy to care about their welfare.
Thatís certainly the case with Pixarís latest entry, Finding Nemo. Thanks to a solid script by director Andrew Stanton (a Pixar regular), many of the human actors who give voices to the computer-generated fish wind up becoming more engaging than when they appear in flesh-and-blood.
Albert Brooks provides the voice for Marlin, a clown fish with little to laugh about. His wife and almost all of her eggs were eaten by a hungry predator, so heís understandably apprehensive about the fate of the only survivor, his tiny son Nemo (Alexander Gould).
When Nemo starts reaching school age, his boyish impulses to explore and play rough with other young fish send his father into hysterics. Marlin is deathly afraid of losing the only family he has left, but his constant protectiveness chafes the lad.
At one point, Nemo rebels by taking interest in a strange object hanging from a boat and winds up becoming a human dentistís pet.
To rescue his son from a fate he can barely understand, Marlin hooks up with a perky little fish named Dory (Ellen DeGeneres), whose short-term memory rivals that of Guy Pearce in Memento. Despite what a motley pair they make, the two manage to survive sharks, jellyfish and other obstacles and have even figured out the address of the dentist. Theyíll have to hurry because Nemo is about to become the property of the dentistís niece, who has a scary habit of inadvertently killing fish in her care.
Along the way, Stanton manages to come up with several good plot twists and to give Brooks his best role in years. Brookís neuroses are often sidesplitting, but itís easier to empathize with his characters when they have legitimate complaints. Potentially losing offspring or life and fin certainly qualify.
DeGeneres has a knack for delivering one-liners and making the process seem unforced or even unplanned.
Good material certainly helps. When Dory talks in her sleep, she gloats, "Ye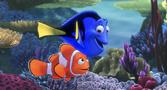 s, I am a natural blue."
There's also some nice vocal work from Willem Dafoe as one of Nemo's fellow captives, and careful listeners can spot Allison Janney, Austin Pendleton, Geoffrey Rush and Stanton himself as a laid back turtle.
As with Toy Story, the humans look kind of doll-like appearance, but the fish designs are consistently imaginative, and the improved technology allows for a greater sense of texture and shading.
You could accuse the folks at Pixar of sticking to a formula, but itís a formula that works nicely. Included with Finding Nemo is a charming short called Knick-Knack that deals with frustrated love between tourist souvenirs. Even in this early short, Pixar crew has already demonstrated a really good eye for character. The designs are simple, but their faces are remarkably expressive.
Some film pundits have wondered if movies like Finding Nemo are going to be the death of 2D animation. The success of movies like Shrek and Monsters, Inc. is frequently cited as well as the relatively paltry box office from Treasure Planet.
Actually both films have used similar technology, and the 2D Lilo and Stitch did much better than the 3D Final Fantasy: The Spirits Within. As they say in the computer trade, the issue is content over delivery system. Pixar seems to have a better quality control system when it comes to scripts than its distributor Disney does.
© 2003 Dan Lybarger
....................................................................................................................