End of Days

December 2, 1999
by Dan Lybarger
Originally appeared in Pitch Weekly. ........................................................................................................

Shortly before a recent screening of End of Days, paramedics helped a man with an unspecified malady out of the theater. At first, the fellow's plight inspired pity. After the film ended, he seemed lucky.

End of Days combines horror, action and hyperactive special effects into a tediously irritating concoction. That's a shame because the idea of watching Arnold Schwarzenegger going mano a mano against the devil actually sounds pretty entertaining. In his better flicks like The Terminator and Total Recall, Ah-nold has an imposing monolithic quality that would make him a reasonable match for the Prince of Darkness. Instead, he plays Jericho Cane, a former New York cop who's bitter about the death of his wife and his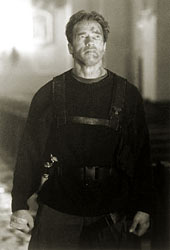 daughter (sound familiar?). Now working as a private investigator and bodyguard, Jericho uses alcohol for stress relief.
The casting is director Peter Hyams' (The Relic) first of many mistakes. Schwarzenegger can be mean, but brooding simply isn't his thing. Also, his buff physique and erect posture don't reflect Jericho's hard living.
Jericho and his partner Chicago (Kevin Pollack) have a routine assignment guarding a shady investment banker. When their client (Gabriel Byrne) draws machine gun fire, Jericho chases the assailant down only to find that the would-be assassin is a fanatical priest and that the client may not be who he seems.
While Jericho's case gets stranger (the priest speaks to him even though he has no tongue), a young woman named Christine (Robin Tunney) finds herself haunted by nightmarish hallucinations such as a menacing albino who suddenly shatters like a ceramic statue. She also has dreams where someone who looks just like the banker seduces her.
Thanks to the script credited to Andrew W. Marlowe (Air Force One), it comes as no surprise that the banker has been possessed by the devil and is going to use Christine to be the mother of his demon spawn. As the movie progresses, the viewer feels gifted with prophesy because every twist and turn of the story is agonizingly obvious. It doesn't help that Marlowe and Hyams plagiarize countless sequences from more thrilling action movies (like the final runaway subway in Speed or the hidden gun climax from Die Hard). Despite all of the gritty atmosphere and mayhem, End of Days packs no tension.
Hyams' bombastic approach only makes things worse. A lot of directors have an "if it ain't broke, don't fix it" mentality. Hyams, however, adds copious computer generated image and makeup effects that distract more than they amaze. Sometimes just showing run-down Big Apple streets would be scary enough. At times it seems like Hyams is a bratty child running amuck with a can of spray paint in an art gallery.
But what is most striking about End of Days is the sometimes campy moral philosophy that runs throughout it. Like Cecil B. DeMille (The Ten Commandments) before him, Hyams revels in all kinds of sinful activity and then makes sure the guilty come to horrible, violent ends. The abundant nudity, gore, profanity and gunplay aren't as vicariously enjoyable as they could be because of the film's sanctimonious tone.
When the final Biblical prophesies do come to pass, maybe Satan won't shock those of weak faith into submission; maybe he'll just bore them. End of Days would make an excellent choice. (R)
........................................................................................................
Back to Home