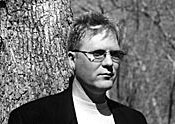 Edward Stencel
ADDITIONAL LINKS

The official site for Men Cry Bullets.
Internet Movie Database Listings for:

A Matter of When


April 6, 2000
by Dan Lybarger
Originally appeared in the April 6-April 12, 2000 issue of Pitch Weekly. ........................................................................................................

Mention just about any flick filmed in the area in the past seven years and Edward Stencel's name is likely to pop up. As the founder of locally based Tilingo Productions, the vice president of the Kansas City Filmmakers Jubilee, and director of the Indy Film Showcase, Stencel has contributed to a variety of local and national productions. He directed a segment of the cable series Split Screen, and he co-produced and photographed the independent film New Shoes.

"I wasn't afraid to work," Stencel says. "I wanted to get out, meet people, and do things. I would build sets. I was not afraid to go out and unload the truck. I've gripped on Truman, and I worked as a camera assistant on Kansas City during preproduction. As far as I know, I think I'm the only person in town who worked on both productions on the same day."

Stencel, who splits his time between Kansas City and Los Angeles, is in Westport explaining his contribution to yet another film. This time it's director Tamara Hernandez's dark comedy, Men Cry Bullets. The movie, which is scheduled to begin a weeklong run at the Tivoli Manor Square on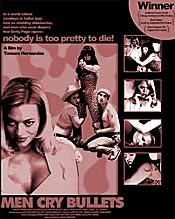 Friday, April 7, defies easy explanation. It concerns a drag queen named Billy (Steven Nelson) who winds up being a victim in an abusive relationship with Gloria, a violent, mean-spirited writer (Honey Lauren). When she isn't beating up or raping potential boyfriends, Gloria gets into ferocious arm-wrestling matches. The two gradually form an eerie love triangle with a demented young beauty (Jeri Ryan).
In addition to the potential marquee presence of Ryan (who gained a considerable following by playing the Borg babe 7 of 9 in Star Trek: Voyager), the movie has received solid reviews from Roger Ebert and other national critics. It even took home prizes from the Chicago Underground and South By Southwest film festivals.
Regardless of the praise the movie has received, Stencel admits it's a tough sell. "Men Cry Bullets deals with domestic violence," he says. "It kind of turns the tables. Instead of a man beating a woman, you have a woman beating a man. It's very in-your-face with that relationship. Despite the fact that Tamara is a female director and she wrote it, the female audience is turned off by it. She doesn't know what to think."
The movie's edgy subject matter and an expensive soundtrack kept it shelved even though it was already finished. Stencel says, "One of the big mistakes that a lot of independent filmmakers make is they use soundtracks that they only get the festival rights to. This was the case with Men Cry Bullets. They had an interesting soundtrack, but to get the rights for festivals versus distribution was a few thousand dollars versus hundreds of thousands of dollars to get the full rights to the songs. They started talking with distributors and said, 'We're having problems. (Distributors) say it's too difficult a film. We have a lot of things to change, and we're out of money.'
"When you make a film, no one ever really budgets enough for all the postproduction and the travel. You really should budget 40 percent of the money toward making the film and 60 percent toward getting it to the festivals and distribution, because that's where people are going to see your film and that's where you're going to make your money and get to make more films. They needed to re-record music and make the film sellable for a distributor. They had a (total) budget of less than half a million dollars. The music rights would have destroyed any potential distributor wanting to take that risk. They couldn't afford to do it. (The team behind Men Cry Bullets) were looking for help, so I started tapping my sources to find money. I came up with the money and they said, 'If you're going to come up with the money, we're going to make you a co-producer.'"
Men Cry Bullets isn't the only recent film that Stencel has helped resurrect. He also produced Shades of Gray, a documentary about gay life in Kansas. He says, "I latched onto the human rights aspect of it. I was down there (in Austin) with Tim (DePaepe, the director), and he had a fraction of it done. He had thousands of 16-millimeter films in a freezer that hadn't been processed, all exposed film. That's the worst thing you can do. I saw the piece. I came in with an influx of money, developed the film, and we formed a partnership. I thought, at that time, we could finish the film in a year. It ended up taking three."
Through his work with the Kansas City Independent Filmmakers Coalition and the Filmmakers Jubilee, Stencel has also helped other small films, such as Men Cry Bullets, Hitting the Ground, and Dog Years, be accessible to local audiences even though they require a different type of exposure. "Kansas City has a big art community, with the Art Institute and Hallmark. You have all the people who used to be part of (the industrial film scene). You've got a lot of people who want variety. Art house theaters have become more commercialized just to survive. I wanted to start bringing in films that might not come to Kansas City. They're worthy films," he says.
Throughout the conversation, Stencel projects an optimism that is remarkably similar to that of the gung-ho movie producer Dustin Hoffman played in Wag the Dog. "I'm a good motivator," Stencel states. "When things don't look so good, I'm always saying they're going to turn around. If you hang in there, good things will happen. Your break is going to come. It may take years. It's not a matter of if it's going to happen; it's a matter of when."
Back to Home