Who's in it? Pierce Brosnan, Halle Berry and Rick Yune

You might like it if you liked: The other Bond flicks

Rated PG-13 for action violence and sexuality.

Running Time: Two hours, 12 minutes
James Bond has been a fixture on the big screen for 40 years. Much of the appeal of 007 is due to his invincibility. This factor has made legions of men want to follow in Bond's footsteps, but it has often stunted the entertainment value of several Bond films because the outcome is preordained.
If the world's least secret agent falls out of a plane without a parachute or faces a down a legion of Russian solders, his safety is assured, and suspense is lost. Somehow with the aid of yet another gadget, he cheats both fate and the audience. Much of the reason the second Bond film From Russia with Love is much more thrilling than most of its successors is that it has a real sense of danger. Bond wasn't dodging lasers or space-based weapons, but Robert Shaw and Lotte Lenya seemed just lethal enough to kill a flesh and blood agent.
Die Another Day, the latest entry in the series, almost rejuvenates the franchise because it jettisons Bond's safety net early on. In the requisite pre-title sequence, Bond (played by Pierce Brosnan, yet again) surfs his way to North Korea for an arms and jewels deal and typically manages to blow up everything in sight.
This is standard operating procedure for 007, but this time Bond's entertainingly improbable escape (like the skiing parachute jump in The Spy Who Loved Me) doesn't happen. The North Koreans capture him, and as Modonna's annoying theme song drones over the credits, his captors repeatedly torture him.
Fourteen months later, Bond regains his freedom. But this time, he has intelligence and diplomatic blunders instead of Q's gizmos to thank. Because of the less than glorious nature of his release, most of Bond's colleagues at MI6 believe that he has divulged secrets. Because of the drugs his jailers administered, he can't say for sure that he didn't squeal.
From here on screenwriters Neal Purvis and Robert Wade balance tweaking the formula and making lots of amusing references to past Bond adventures. As with Licence to Kill, Bond goes rogue and tracks down the North Korean spy (Rick Yune) who got him locked up. He arrives in Cuba posing as an ornithologist (a nod to how novelist Ian Fleming came up with the master spy's name) and quickly discovers a racket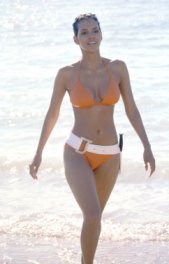 where criminals can get their faces and even their DNA changed. Of course, Bond manages to meet and seduce a beautiful spy named Jinx (Halle Berry, Monster's Ball).
As the aforementioned Bondmate, Berry is called up to do little more than look fantastic in a bikini similar to the one Usula Andress wore in Dr. No. Still, she and fellow Bond girl Rosamund Pike can recite dialogue without embarrassing themselves, which is far more than their predecessors Denise Richards and Sophie Marceau could do in The World Is Not Enough.
Die Another Day also takes Bond from Cuba to England to Iceland, where he visits a nifty ice palace worthy of the bad guy lairs in the previous flicks. It's occupant, tycoon Gustav Graves (Toby Stevens) is shady and arrogant enough to be a perfect target for 007.
Much of what follows isn't quite so idea. After Bond leaves Iceland, Die Another Day becomes DOA. At this point the hardware takes over, and the fun diminishes. The scientific implausibilities like Bond's invisible Aston Martin or the whole DNA mumbo jumbo are acceptable. Nobody goes to Bond films for realism. Bad special effects, however, are unforgivable.
The airborne finale looks as if it were filmed off of a Playstation screen, and the climactic fistfights don't help. Early in Die Another Day, there's an enjoyable fencing duel between Bond and Graves, so the final showdown seems like a pale retread. It's also a sad reminder of how the new action scenes lack the thrilling brutality of the Sean Connery-Robert Shaw punch out in From Russia with Love. Bond didn't have as many gadgets back then, but he was more fun.
Diehard Bond fans will catch the references to the previous flicks. In the laboratory of Q (John Cleese), you'll see what happened to the devices used in previous missions. If director Lee Tamahori (Along Came a Spider and Once Were Warriors) had devoted the attention he gave to these in-jokes to the story development, Die Another Day would have been a more consistent and pleasant reminder of Bond's past glory. At least in this one, the villains don't feel the need to reveal their world-ending schemes to 007 just before he escapes their clutches.
....................................................................................................................