The Devil's Backbone is a ghost story that would probably be scary even if the phantoms who inhabit it weren't around. As with his last movie Mimic, Mexican director Guillermo Del Toro takes an inherently creepy setting and augments it with science fiction or supernatural undertones. In the former picture, he made New York subway tunnels even more intimidating by adding giant, mutant cockroaches. With the Spanish Civil War as a backdrop, The Devil's Backbone leaves a viewer to wonder if mere human greed and jealousy are more ominous than vindictive spooks.
Ghosts are probably the last affliction that Carlos (Fernando Tielve) needs. His parents have died fighting Franco's troops, so his father's desperate comrades dump him at a boys school teeming with other abandoned lads. The unexploded bomb that's lying in the courtyard proves to be a fitting symbol for the situation that Carlos has stumbled into. The adults who run the place, Dr. Casares (Argentinean actor Federico Luppi) and the principal Carmen (Marisa Paredes, the star of several Pedro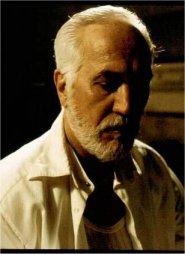 Almodóvar movies) are kind, but the other kids aren't. There's a bully named Jaime (Íñigo Garcés) who steals Carlos's possessions and puts him up to dangerous stunts. In addition to formidable peer pressure, Carlos has to stay clear of the school's caretaker Jacinto (Eduardo Noriega from Abre los ojos).
Actually, Jacinto is a caretaker in name only. He's secretly trying to get his hands on a cache of gold hidden in the school's walls. Jacinto's determination is formidable. He's recruited a couple of surly thugs, and he even cheats on his girlfriend Conchita (Irene Visedo) with Carmen. Love is not his motivation for the affair. In addition to being several years his senior, Carmen is missing a leg and rewards him with keys, one of which may fit into the safe that contains the gold. Jacinto is not above attacking boys who run afoul of him, and outside the complex, the war is turning friends into betrayers. Carlos also discovers he has even more to fear because there is a young ghost threatening to kill everyone at the school.
The script by Del Toro, Antonio Trashorras and David Muñoz manages to juggle politics, unrequited desire (Dr. Casares is nursing a crush on Carmen, whom he has never been able to approach romantically because she's the widow of a friend) and the supernatural in an effortless manner. Like that other Spanish-made chiller The Others, The Devil's Backbone has more than cheap thrills on its agenda. To be fair, Del Toro is a fan of American horror movies (he's even written a book on Hitchcock), and he's even directed two Stateside flicks: Mimic and Blade II. What makes The Devil's Backbone special is that Del Toro is as concerned about his human characters as he is with creating nifty effects. While the fourteen-year-old boy in me gets a kick out of seeing blood seeping up out of the ghost boy's head, there's no denying that it's easier to get into a thriller if the characters are believable and interesting. Jaime, for example, is not a mere ruffian. For his own survival, he hides a sensitivity that he shares only with Conchita. It is as gripping to watch him wrestle with his baser instincts as it is to watch him and the other boys run from the spooks.
Noriega isn't a large man, but he projects an eerie obsessiveness that indicates Jacinto can't be subdued easily. As with Abre los ojos, he can become compelling as his character becomes more and more depraved. Del Toro has assembled an ace troupe of players, but Luppi manages to upstage the rest. As in Cronos, he's a terrific foil for Del Toro's cold, creepy imagination. He injects warmth and wit, providing a fine counterpoint to the chills.
Not that Del Toro has neglected the latter. Del Toro's frequent collaborator cinematographer Guillermo Navarro ably establishes a forebodingly dark atmosphere in the school and a harsh, stifling look for the surrounding desert. A former makeup technician, Del Toro uses the digital effects at his disposal in a convincing, but subtle way. The sequences with the ghost are short and to the point. Del Toro would rather have us watching Carlos and Jaime's frightened faces than dwelling on trickery.
Del Toro isn't really offering anything new with The Devil's Backbone, but he does have a vivid sense of what used to make these kinds of movies scary and satisfying. By tweaking an audience's hearts as ably as he can design a CGI, Del Toro manages to make old scares seem frighteningly new.
........................................................................................................