Director Mike Hodges shocked 1971 audiences with the brutality of his thriller, Get Carter. His new movie, Croupier, delivers a much different but equally potent sort of jolt. He and screenwriter Paul Mayersberg (The Man Who Fell to Earth) eschew violence and conventional gambling motifs. No guns ever appear on screen, and the story is not told from a desperate gambler's point of view.
Instead, Hodges and Mayersberg focus on Jack Manfred (Clive Owen, Bent), a struggling British writer who lives off his generous girlfriend, Marion (Notting Hill's Gina McKee). His publisher, Giles (Alexander Morton), prints only sensational topics that don't interest Jack (Giles boasts how he's distributed a "kill-and-tell" book by a terrorist), and Jack hasn't got a clue what he wants to put to paper. At his father's suggestion, Jack takes a job as a roulette dealer (or croupier). Jack dreads the prospect because it constantly reminds him of how his father's gaming habit ruined their family.
Still, Jack needs the money, and the job gives him a serious kick. While many of the punters (or bettors) are addicted to gambling, Jack gets a major fix out of watching them lose. "Gambling's not about money; gambling's about ignoring reality," he explains. Unlike his peers in the profession, Jack never places after-hours bets, buys lottery tickets, or even plays cards with his chums. This sort of attitude is good for his job. Croupiers are forbidden from having contact with punters, and Jack considers himself above them. Jack's distance from everyone else around him and some sudden changes in his behavior (like removing the blond dye from his dark hair) alarm Marion. He further endangers their relationship by starting up affairs with a cynical fellow croupier (Kate Hardie) and a gorgeous but mysterious punter named Jani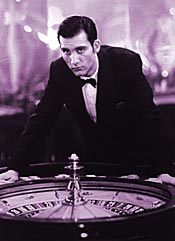 (Alex Kingston from ER). Despite all of the obvious risks he has taken, Jack considers himself safe, but his hands twitch when he goes off duty, and fate has a way of making the odds meaningless.
Hodges takes all of these elements and creates a constant feeling of danger even though there's hardly an action scene in the entire film. Instead, he paints a strange, disorienting atmosphere using mirrored walls, exaggerated sound effects, and odd camera angles. Another appropriate touch is Mayersberg's darkly amusing voiceover narration, which Owen eerily delivers in the third person. The writer also creates complex, believable characters (like McKee's sweet-natured but shrewd Marion) and a plot that's as unpredictable as a properly maintained slot machine. The cast demonstrates a similar capacity to surprise. From a distance, Owen's face seems impassive, but his eyes frequently indicate that a very human and vulnerable heart beats under his tuxedo.
In its brief 94 minutes, Croupier deftly breaks dozens of cinematic rules and poses some fundamental questions about how people view risk and its consequences. It cleverly plays games with viewers' heads long after the projector has stopped rolling (N/R)
........................................................................................................