It would be tempting to dismiss The Core as merely a dumb popcorn movie.
But that's an insult to effective dumb popcorn movies.
As it progresses, The Core flounders on two key points:
1. It's not realistic or even believable enough to please viewers who know a little bit about geophysics.
2. It's not imaginative enough to make good escapism.
Instead of whisking viewers to a previously unseen environment that can't yet be explored outside of a movie theater, The Core proves that the computer-generated images can be just as dull as the people who inhabit the film.
The Core follows these scientific and military drones as they discover that a series of bizarre and lethal phenomena like an epidemic of Chicago pacemaker failures and Trafalgar Square being overrun by feisty birds have an ominous relationship. According to geeky college professor Josh Keyes (Aaron Eckhart), an amiable French weapons expert (Tchéky Karyo) and the renowned but morally-challenged scientist Conrad Zimsky (Stanley Tucci), the earth's core has stopped spinning, which will cause the rest of the planet to burn to a crisp.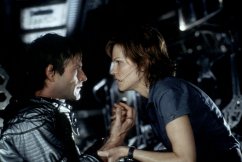 Facing an impending apocalypse almost makes the early portions of The Core entertaining. There are a few groaningly amusing one-liners here and there (FBI agents warn Keyes to cooperate because, "We're armed, and we don't have a sense of humor."), and the cast manage to imbue a tiny shred of humanity into Cooper Layne and John Rogers' cold, routine script. Eckhart has difficulty tying a tie, and Tucci seems to enjoy playing such a pompous and odious character. It would have been nice to have a few more moments like these, but nobody pays money to see performances in a flick like this one. That may be a shame because stock characters like a rail thin computer hacker played by DJ Qualls and a duplicitous general (Richard Jenkins) are less interesting than the impending demise of the Earth.
Some of the disaster footage is reasonably creepy and convincing, although ripping off Hitchcock's The Birds is a capital offense in some states. The most entertaining vision of doom is a sequence where a space shuttle runs off course, and its pilots Major Rebecca Childs (Hilary Swank) and Colonel Robert Iverson (Bruce Greenwood, 13 Days) have the thankless task of landing the craft in the middle of Los Angeles at the height of rush hour. The delightfully improbable way the astronauts bring the spacecraft to the ground is good for a solid guilty chuckle.
The narrative problems really start to kick into gear when the scientists and the astronauts (now, terranauts) journey to the Earth's center to jumpstart the dormant core with nuclear weapons. In addition to the inherent silliness of the idea, the vehicle, designed by lone wolf inventor Edward Brazelton (Delroy Lindo) and guided by the fussy ground controller Stick (Alfre Woodard), looks like a segmented worm gliding through Jell-O.
It's hard to think of any recent special effects film with less visual flair. The grainy "we did this on a computer" look gives a viewer the impression that every expense was spared. A large facility that appears later in the movie looks as if it were photographed off of a Sony Playstation.
Nothing British filmmaker Jon Amiel (Tune in Tomorrow and Summersby) has directed before has adequately prepared him for a film like this one. For all of his flaws as a dramatist, James Cameron of Titanic and The Terminator fame at least knows how to frame and shoot a special effect so that it's suitably impressive. Amiel approaches the later material in The Core with a dull seriousness that only aggravates the malaise. Never during The Core do we gaze in wonder at the Earth's innards, and what there is of them looks pretty boring.
It's possible that there were even worse movies to the filmmakers could have aped instead of Michael Bay's corny and overproduced Armageddon and the Irwin Allen disaster movies like The Poseidon Adventure. The occasional fun of the latter type of film is trying to guess which participant will die next. That joy is not to be had in The Core because the fatalities happen like clockwork.
The next time these folks try to copy something they might want to try a less spent genre and to aim just little bit higher.
© 2003 Dan Lybarger
....................................................................................................................