When Mel Gibson passes on to that big screen in the sky, don't be surprised if he's best remembered for playing a flirtatious rooster.
As ludicrous as this statement might sound, Chicken Run is an imaginative, witty and captivating animated film. It offers Gibson and a cast of talented British character actors the opportunity to play lovable, unforgettable characters that are as vivid as any they've played in live action movies.
For anyone who has followed the work of Aardman Animations, the charm of Chicken Run, their first feature, comes as no surprise. The U.K.-based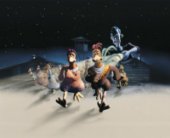 model animation company is responsible for the mind-bending video for Peter Gabriel's tune "Sledgehammer" and director Nick Park's Oscar-winning Wallace and Gromit shorts. Partially financed by Dreamworks, Chicken Run has a technical polish exceeding that of Aardman's earlier efforts. Thankfully, the droll British approach of their earlier projects remains intact.
Chicken Run has an engaging story by Kerey Kirkpatrick and directors Peter Lord and Nick Park. The film incorporates clever nods to The Great Escape and other sources. It concerns an intrepid hen named Ginger (voiced by Julia Sawalha of Absolutely Fabulous). She and her fellow cluckers are stuck in a pen, and they are smart enough to know what the farm's owners, Mr. and Mrs. Tweedy (Tony Haygarth and Sleepy Hollow's Miranda Richardson), do to hens who fail to lay enough eggs.
Ginger continually attempts to escape (one time she even tries to crawl out by hiding in a ceramic garden gnome). All of her efforts are rewarded with frustration. The high fence and the Tweedys' ferocious dogs make even the most clever getaway plans futile. Even the enterprising rats Nick and Fletcher (Timothy Spall and Phil Daniels) can't help. Worse, they demand eggs for their questionable services.
The hopelessness dissipates when a handsome American rooster named Rocky (Gibson) stumbles into the roost. The only other male chicken is a fussy old bird named Fowler (Benjamin Whitrow). Naturally, the mere presence of the Yank is welcome. Furthermore, Rocky is a circus performer whose chief claim to fame is that he can soar over an audience. He breaks his wing when he falls into the chicken farm, but the hens enlist him into teaching them how to fly.
The lessons, unfortunately, lead only to corny wisecracks from the rats ("It's raining hen!"). Rocky seems more intent on making eyes at the females than in actually making an escape plan. The situation becomes even more dire when the Tweedys buy an elaborate machine that makes pies out of any unfortunate chicken placed in it.
Lord and Park receive considerable mileage from the plight of the condemned chickens. The plasticine creatures have dozens of believable expressions (even
though the chickens have teeth here), making their joys and pains just as believable. The sets also employ dramatic lighting enhancing the emotions of a given situation. They also wisely avoid becoming too graphic with the life-or-death nature of the plot. Whenever a fellow hen fails to return to the pen, the less-than-perceptive Babs (hilariously voiced by Jane Horrocks from Little Voice) asks if her comrade has gone for a holiday. If children will delight in the way the clay chickens can come to life on the screen, adults
can admire how Lord and Park weave such an enchanting tale with rare wit and subtlety (G).
........................................................................................................