The poster for Center Stage helps indicate why this look at would-be professional ballet dancers is often entertaining. The focal point of the photo is the dancers' feet. Their seemingly dainty shoes are frazzled and covered with dirt. Early in the movie itself, we see a long sequence where the dancers pummel their shoes to give them more traction and pliability. There are also scenes where viewers are given a close-up look at the punishment all that dancing can do to their feet.
During these moments, the film has an edginess and authenticity that might have made the rest of the proceedings even more enjoyable. As it stands, the ensemble story about life at the American Ballet Academy in New York City is marred by screenwriter Carol Heikkinen's (Empire Records) stock characters. Jody Sawyer (Amanda Schull) dreams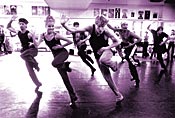 of having a ballet career, but her shoddy training could doom her chances. It doesn't help that the school's pedantic director, Jonathan (Peter Gallagher), believes that ballerinas should have more willowy builds than hers. His own life is complicated by his rivalry with the maverick dancer-choreographer Cooper Nielsen (Ethan Stiefel). Whenever he isn't breaking artistic taboos, Cooper is an incorrigible heartbreaker and has set his sights on Jody. Back in the dorm, Jody deals with her roommates: snooty prima donna Maureen (Susan May Pratt) and personable but undisciplined Eva (Zoë Saldana). The guys in the Academy include the flamboyantly gay Erik (Shakiem Evans), and they feel like an awkward combination of characters from a soap opera and an "Afterschool Special."
Thankfully, all of this takes a backseat to the performance sequences. Director Nicholas Hytner (The Object of My Affection) has years of experience helming numerous London stage productions, such as the musical Miss Saigon and numerous operas, so he's a safe bet for making ballet come alive on the screen. He and choreographers Susan Stroman and Christopher Wheeldon have assembled a delightfully eclectic group of pieces ranging from wicked P-funk moves (set to the groove of Red Hot Chili Peppers), steamy salsa routines, and some lovingly re-created pieces originally staged by Sir Kenneth MacMillan and George Balanchine. The finale is an especially engaging combination of traditional dance with flashes of Gene Kelly.
The young, mostly unknown cast is another plus. Because many of the actors are unfamiliar, their struggles seem less cliché. Still, Center Stage puts a viewer in an interesting dilemma. People who rent the movie later on will be able to fast forward through all the backstage hokum. But they will miss the vitality that only the big screen can give to the dance sequences. (PG-13)
........................................................................................................