Digital Souls:
An Interview with Maurice Prather on Carnival of Souls

February 3, 2000
by Dan Lybarger
Originally appeared in the February 3-9, 2000 issue of Pitch Weekly. ........................................................................................................

The success of last summer's The Blair Witch Project was remarkable, but it was not unprecedented. Several microbudgeted horror flicks, such as The Evil Dead and Night of the Living Dead, have proven to be remarkably entertaining and influential even though they were made for next to nothing.

Another inexpensive but effective horror entry is producer-director Herk Harvey's 1961 cult favorite Carnival of Souls. Shot in Lawrence, Kan., and Salt Lake City, Utah, for $33,000, the movie has won the admiration of such film buffs as critic Roger Ebert, Scream director Wes Craven, director Martin Scorsese, and filmmaker George A. Romero, who readily admits its influence on his Night of the Living Dead. The story, about a young organist (Lee Strasberg-trained actress Candace Hilligoss) who mysteriously survives a car wreck only to find herself stalked by ghosts, was loosely remade last year (Craven served as a producer). In addition, the original will finally come to DVD this spring from the respected Criterion Collection and from locally based Englewood Video in conjunction with Image Entertainment.

All of this recent attention is a pleasant surprise for the movie's cinematographer, Maurice Prather. In a recent interview held locally, he admits: "We didn't set out to make a classic. We just wanted to make a movie that would make a little money.… One of the things that helped Carnival was that it was dead for 10 years. (It was re-released with great fanfare in 1989.) I think people are more ready for this type of film. It was a little way out in those days. It got a really poor reception in Lawrence during its first shot. The college kids didn't care for it too much, but now the kids go for that sort of thing."

Like The Sixth Sense, Carnival of Souls uses creepy atmosphere and the audience's imagination to create its chills. In his review of the 1989 re-release, Ebert states: "Unlike most of today's horror movies, Carnival of Souls has few special effects — some wavy lines as we pass through various levels of existence, and that's it. Instead, it depends on crisp black-and-white photography, atmosphere, and surprisingly effective acting. It's impossible to know whether this movie was seen by such directors as David Lynch or George Romero. But in the way it shows the horror beneath the surface of placid small-town life, it suggests Blue Velvet, and a shot of dead souls at an abandoned amusement park reminded me of the lurching undead in Night of the Living Dead."

Prather explains, "We had basically no special effects whatsoever. The only 'special effect' per se is the time (Hilligoss) rolls up her window and Herk's (Harvey also played the lead spook) ghost picture comes into it. We created that in the studio ourselves. We did it with a mirror."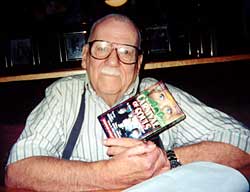 The filmmakers used similar ingenuity for the movie's one major stunt, where the car carrying Hilligoss crashes off a bridge. Prather asks, "What do you think it cost us for a city like Lecompton (Kan.) to let us wreck their bridge? $38. They said, 'Yeah, you can do that as long as you replace the rails you knock out.' It was nothing to replace the rails.
"Gene Moore (who also composed the soundtrack music) was extremely instrumental in getting the automobiles that went off the bridge," Prather recalls. "The one we pulled off the bridge was totally wrecked once it went off the bridge, and the other one we used wasn't much good either because it had been partially submerged. (Moore) wasn't too happy, because his deal was that after the shooting, he got the cars."
Although the movie was made without elaborate studio facilities, Harvey and Prather used camera techniques that Hollywood filmmakers would later emulate. For example, the car scenes were shot inside of moving vehicles instead of in front of a process screen. Furthermore, the camera is remarkably mobile. In one scene, it even follows Hilligoss as she goes down an escalator.
"We were using a camera called an Arriflex," Prather says. "It was developed by a man in Germany named Richter. It was a 35mm camera. The viewfinder was through the lens just like the 35mm reflex camera that you use today. It had a motor that was driven by a battery. Its turret would hold three lenses or a big zoom lens. This camera was very easily held. The Germans shot all of their (World War II) military footage on these. When you see the History Channel, you can see how good the footage is."
Lawrence might seem an odd place for such innovation, but Prather recalls that the university town had a budding film scene. The city was the home of the Centron corporation. It specialized in industrial educational films and at different times employed Harvey, Prather, and Carnival of Souls screenwriter John Clifford. KU also had an active theater department that helped in recruiting the actors.
Prather remembers, "Lawrence could have become a production center for low-budget films. There was a lot of talent there. Once our film got ripped off, that pretty much slowed down anybody's interest in doing anything else.
"In the early days of independent productions, it was very hard to find anybody who would distribute a film. Herk found this small distribution company. The deal with the laboratories (which make prints from the negatives) is if you don't pay for the product, it becomes their property, and they can sell it to anybody they damn well please. That's what happened to Herk's film. Herk didn't know about it. He was out of the country. The worst part was that the film was never copyrighted. We didn't know much about copyright laws," he says.
Because of the murky rights situation, several inferior VHS video versions are available. One is even hosted by The Munsters star Al "Grandpa" Lewis. "One of the early (versions) I have is just garbage," Prather laments. "There were scratches and noises."
The new DVD versions offer hope for the movie's fans. Both versions are made with better prints. They differ because the Englewood edition is based on European versions, which were tinted and had "Psychorama" effects like slow motion. Prather states: "That was impossible with the Arriflex cameras because they only ran at sound speed. Actually, I like the tinting, and some of the 'strobe' scenes are really effective."
Prather is pleased to have his photography viewed through the latest technology, but he doesn't regret missing out on a Hollywood career. He says, "I've been a professional photographer for 50 years. My wife and I had lived in California and really didn't feel like moving back there. I did a lot of movie work and all of the still work for Centron. I prefer to do still photography. I came here to Kansas City and I got out of the motion picture business because it was too expensive. A lot of the stuff I did was food photography. I love food photography. I also did portraits to please myself, not to please the person I was photographing. You get a little old lady saying, 'Make me look like I'm 20 years old.'"
Back to Home