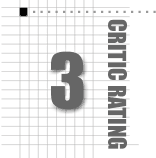 Blast From the Past

February 10, 1999
by Dan Lybarger
Originally appeared in Pitch Weekly. ........................................................................................................

We can all be thankful

that the Cuban Missile Crisis didn't end in a nuclear bloodbath. However, such a fate would have prevented the release of lame comedies like Blast From the Past.

Christopher Walken and Sissy Spacek play Calvin and Helen Webber, a couple whose preparations for atomic disaster are more elaborate than most. Under their home lies an immense fallout shelter. The two wind up spending over 30 years down there when they mistake a plane wreck for The Big One. Emerging from their isolation, they mistake a rundown neighborhood in Los Angeles for the result of President Kennedy's showdown with Premier Khrushchev.

Calvin is so traumatized by what he has seen on the surface that he suffers a heart attack. Low on supplies, the two send their son Adam (Brendan Fraser from Gods and Monsters) above ground to get their necessities. Armed with an outdated understanding of the world, Adam is helpless. Fortunately, he winds up being befriended by a cynical young woman (Alicia Silverstone) who helps him in his quest without really understanding it. No surprise that her name turns out to be Eve.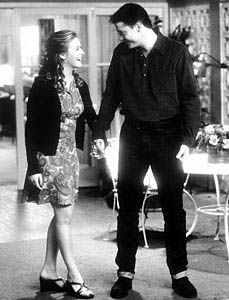 Alicia Silverstone and Brendan Fraser walk into the sunlight in Blast
from the Past.
© 1999 New Line Cinema, used by permission.

Most of the humor is as stale and mindless as this play on words. The script credited to Bill Kelly and director Hugh Wilson (The First Wives Club) is full of flat, fish-out-of-water gags and an annoying tendency to rely on cliché. For example, there is a token gay character (Dave Foley) whose sole purpose appears to be predictable jokes on sexual orientation. It's also painfully obvious that Adam and Eve, despite their differences, will end up together. The problem lies in Silverstone's charmless performance. She has trouble balancing Eve's good nature with her cynicism. As a result, she becomes a whiny harpy. While she was beguiling in Clueless, Silverstone is so annoying this time that her pairing with Fraser seems less than ideal. Some of this deficiency can be blamed on Kelly and Wilson for not really thinking out their characters.

The rest of the cast occasionally rescues the flick. Fraser, who is pretty much rehashing the stranger-in-a-strange-land routine he performed in Encino Man, has his moments. It is sporadically funny to watch him gazing at Los Angeles in unenlightened wonder. Spacek is also amusing. As her time in the shelter weighs down on her, she mutates from being a June Cleaver-like mom into a rabid alcoholic.

Despite their effort, Blast From the Past isn't nearly as funny as the documentary Atomic Café, a collection of Cold War propaganda clips that captures the paranoia and naiveté of the era much more effectively. It's a shame that the seriously intended cartoons that starred Bert the Turtle, who advised people to duck and cover during nuclear attack, are far more side-splitting than anything seen in Blast From the Past. (PG-13)

........................................................................................................

Back to Home