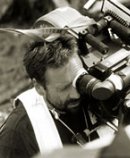 Arc of a Diver:
An Interview with Luc Besson and Milla Jovovich

November 11, 1999
by Dan Lybarger
Originally appeared in the November 11-November 17, 1999 issue of Pitch Weekly.

........................................................................................................

Joan of Arc is one of history's most familiar yet mysterious figures. The story of how a teenage peasant girl liberated the city of Orleans from the English has fascinated writers, artists and even filmmakers for centuries. Directors as diverse as Cecil B. DeMille and Otto Preminger have tackled her story. Last spring a miniseries about Joan aired, and another feature film, The Messenger: The Story of Joan of Arc, hits theaters this week.

The latest Joan story is from director Luc Besson, who, like Joan, hails from France. At first, Besson would seem an odd person to tell Joan's story. He's best known for slick action movies like La Femme Nikita, The Professional and The Fifth Element. However, in a roundtable interview held last month in Los Angeles, Besson recalls that his interest in the Maid of Orleans began when he was young.

"Most of what I knew was about St. Joan, this big statue," Besson says. "Then I started to realize through what I read that she was a human being, a woman, 19 years old, trapped in a political way. It became very interesting to me to see how at her age, and in the 15th century, she can go through it. I say to myself, 'Through her experience, how she made it, maybe I can learn something from it.'

"She taught me things with your faith. Faith is great. The application of faith is great. Most of the religions around the world are giving good messages. 'Don't kill.' 'Love each other.' The basic texts are great. Society today, we are not perfect and are difficult to live through. If religion can help people to live better, go for it. But as soon as you take the text, and you switch the text to your own interest, then I will fight against that all my life. It's worse than anything in the world. Faith is good, but there is no cause which is worth killing anyone," he says.

When asked if he believes if Joan heard the voice of God, Besson replies, "For me, it was herself. If God exists, he is probably in you. Otherwise, if you want to give a figure to a god, which one? What about the 37 Egyptian gods 4,000 years ago? They are false?"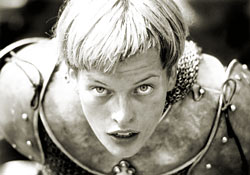 To give a flesh and blood figure to Joan, Besson cast his then-wife Milla Jovovich, who played a similarly endowed character in The Fifth Element. "They have common points," he says. "They have no skin. They can cry in two seconds. Milla should have been born in the 19th century or the 29th century. This century is not the right one for her because her behavior doesn't fit. Joan is the same. She doesn't belong in (her) century. She was too sensitive."
When asked about performing a demanding role for her former husband, Jovovich's eyes light up. "Luc and I have a very unique creative connection, very much like acrobatics," she says. "There's so much trust there. It comes from a lot of work, but there's something you can't really define in any way, shape or form. We talk about the script and the character for months, but when we're on the set, I can almost anticipate what his next thought is going to be. If we could make movies seven days a week, we wouldn't know what the world was about. We'd still be in dreamland."
If making The Messenger sounds stimulating, neither Besson nor Jovovich has rosy memories of the battle scenes. When he recruited actors and crew, Besson recalls, "I said, 'I want to tell you that there's no makeup. There's no seat with your name, no special caravan. I don't get a seat with my name. We're working 12-hour days. Do you want that?'"
According to Jovovich, simply wearing the costumes was arduous. "On the most physical level it was insane. I got a bunch of broken capillaries on my neck from the armor. It was about 50 pounds. Just the (leg armor) on its own, the strings that connect the belt to the legs pull down so it's constantly (pulling on) your back," she says. "Going to the bathroom was a major hassle. The guys had it much easier than I did. Thank God we didn't go there in the movie. In reality, those people didn't go to the bathroom. 'Excuse me while I kill you; I'm just going to go to the loo.' (The battle scenes) should have had John Waters' scratch-and-sniff."
The role of Joan itself has a hazardous, possibly cursed reputation. Ingrid Bergman almost lost her career when she had a scandalous affair shortly after playing Joan. Renée Maria Falconetti and Jean Seberg both died at relatively young ages. Jovovich says, "I've heard about the curse of Joan of Arc. But if you look at it, how many actors or actresses have perfect lives? Almost every old movie star that you hear about had some tragedy happen that usually happens to everybody, but just because they were a movie star it's like, 'I can't believe it happened to her or him.' It's life....I use superstition when I need it. I learned that from my mom. She's not religious, but when times are tough, she lights the candles. We sort of abuse superstition."
Joan has inspired legends and myths, but her unconventional path to leadership resembles Besson's. Besson started filmmaking when a medical condition prevented him from pursuing his first passion, scuba diving. He remembers, "I'm not a moviegoer. I was not raised next to a movie theater. I was raised in Greece and Yugoslavia. I was raised on the sea. I had no shoes for five years."
Besson says that he might have seen his first movie when he was 9 years old, Disney's The Jungle Book. "I totally identified with it," he recalls. "No shoes. I said, 'That's me.' Except that my friends were the fishes and the octopus."
Besson's unusual journey to the director's chair is reflected in his attitude. When told that his films look like nothing else coming from France, a look of pride comes over his face, and he replies, "Thank you. You can't be inspired by movies. You need to express yourself. Then you can choose movies; you can choose painting. I chose movies because I was not good for anything else. What do you express? You express your feelings, your life, people you've met, your family, sad things that happen to you. I'm kind of fighting with part of the French cinema, always acting with reference to Godard, and they joke about the takes he did. It's wrong."
The director's idiosyncratic approach to cinema has won him a cult following on both sides of the Atlantic. However, Besson's faithful take on Joan's death alienated American test audiences. Jovovich recalls, "We had a lot of people say, 'I don't think she should get burned at the end.'"
Back to Home