Who's in it? Katie Holmes, Benjamin Bratt, Charlie Hunnam, Zooey Deschanel
You might like it if you liked: "Disturbing Behavior," "Traffic"
Rated PG-13 for drug and alcohol content, sexuality, some violence and language.
Running Time: 1 hour, 39 minutes
Even if you've never seen the Oscar-winning drug epic "Traffic," you can tell that "Abandon" comes from the same screenwriter, Stephen Gaghan.
There are plenty of references to illicit chemicals, and the narrative is just about as complex. In a few scenes in the new movie, you can also believe that Gaghan won a statuette for his script.
But Gaghan, in his directorial debut here, squanders a simple but potent idea on red herrings and abrupt changes in tone. It's as if the director couldn't decide if he wanted to make a character study or a disorienting thriller. In the end, "Abandon" winds up like a fitfully coherent term paper written by a brilliant student who had imbibed a few too many study aids.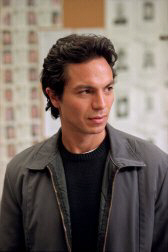 To Gaghan's credit, "Abandon," reworked from Sean Desmond's novel Adam's Fall, is the first college flick in a while that appears to be written by someone who attended college. Students really go to classes between orgies, and they frequently study.
Katie Holmes stars as Katie Burke, a co-ed whose relentless studying has yielded stellar marks and no foreseeable post graduation career worries. Still, her finals loom large, as do the memories of her ex-boyfriend Embry (Charlie Hunnan, most recently seen in "Undeclared"), who vanished without a trace two years earlier.
At times after late nights in the library or during inebriation, Katie thinks she sees her ex following her with a menacing grin. These visions may have nothing to do with the aftereffects of a kegger because a city detective named Wade Hunter (Benjamin Bratt) is questioning her about Embry's disappearance.
All of this might seem a bit more gripping if Hunter didn't seem like one of the least observant cops on the force. Bratt comes across as sweetly likable, but Hunter understands his leads about half an hour after the audience does. For a woman who thinks she's being stalked, Katie takes her time in alerting Hunter. The two fumble around like a couple of Keystone Kops.
As a director, Gaghan uses a lot of the same flashy techniques Steven Soderbergh cooked up for "Traffic." Soderbergh's visual decisions made sense (different color schemes for different locales), but Gaghan feels a need to show off snazzy blue silhouettes regardless of storytelling purpose.
Gaghan also shifts point-of-view abruptly during the movie, rendering a telegraphed "surprise" ending that feels like a cheat. Clint Mansell's bombastically dissonant score only amplifies Gaghan's meandering narrative and glacial pacing. "Abandon" is half as long as "Traffic," but you wouldn't know it without looking at your watch. Which I did, frequently. Gaghan might have done better to concentrate on the inherent stresses of college life instead of seeming to ape a certain movie about a mentally ill mathematician.
The supporting characters are more fun than any of the ones who appear on the poster Zooey Deschanel ("The Good Girl") is a riot as Katie's chatty best friend, and Melanie Lynskey ("Sweet Home Alabama") is amusingly creepy as an intrusive librarian.
Gaghan also dishes out several choice zingers. When Katie dismisses the idea that the self-important Embry might have killed himself, she muses, "He'd rather have himself bronzed."
Gaghan's flourishes demonstrate he has talent, but he winds up proving that convincing suspense is something they just don't teach in school.
....................................................................................................................